Sole, spiagge, mare ma anche la classifiche di Luglio delle Twitch Most Watched, con i titoli più visti sul famoso portale di streaming.
Il mese di Luglio fornisce un nuovo leader all'interno della Esports Chart e vari cambiamenti in quella generale.
Esports Chart
League of Legends riprende lo scettro del titolo più visto nella categoria esport. Il MOBA made in Riot Games approfitta del periodo di pausa di Dota 2 per riprendersi la vetta della classifica con le sue 21.5 milioni d'ore di trasmissioni, dedicate principalmente ai vari campionati regionali.
Per Dota 2, luglio equivale a un terzo posto, superato anche da Counter-Strike: Global Offensive e le sue 13.7 milioni d'ore di streaming.
Con Overwatch in quarta posizione, incapace di sfruttare appieno il potenziale delle Overwatch League, la palma del miglior balzo in avanti in classifica spetta a PlayerUnknown's BattleGorunds.
Per il titolo della BlueHole Studios un salto di tre posizioni sino alla quinta posizione, merito principale del PUGB invitational di Berlino dello scorso weekend.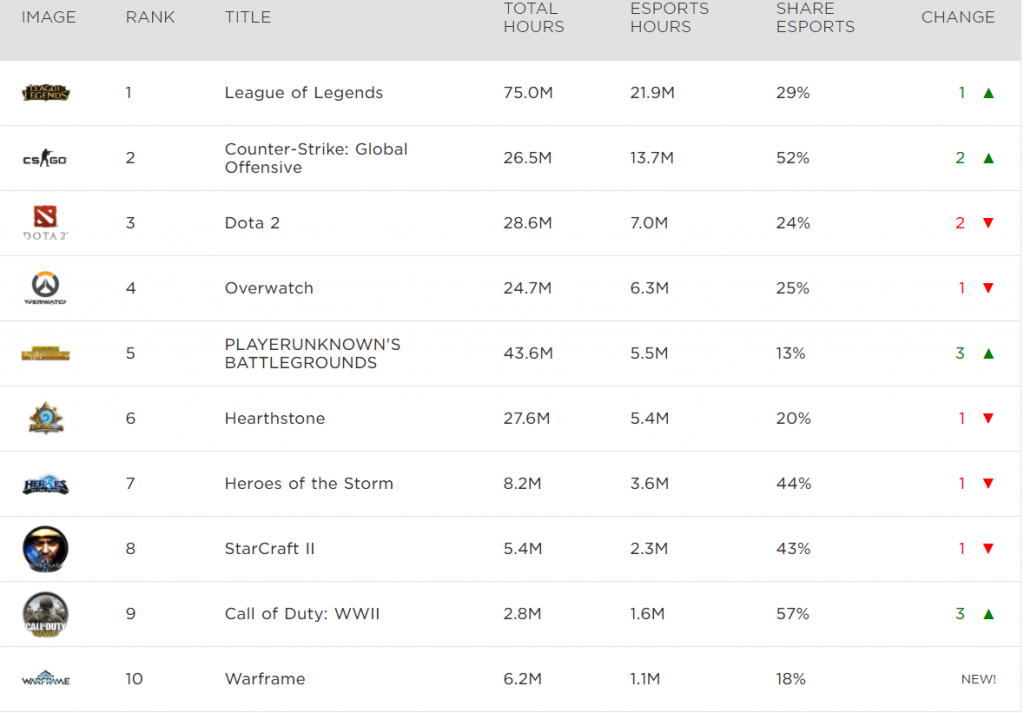 General Chart
Fortnite rafforza la sua leadership nella classifica generale grazie alle  sue 149 milioni d'ore di streaming trasmesse a Luglio.
League of Legends e PUBG completano il podio ma la nostra attenzione viene catturata sui balzi in avanti di CS:GO e World Of Warcraft.
Per il titolo della Valve, la spinta delle trasmissioni degli eventi esport porta giovamento anche nella general Chart e le 26.5 milioni d'ore di streaming gli regalano la sesta posizione.
World of Warcraft sale in ottava posizione con 21.7 milioni streaming, che hanno visto come protagonista i primi passi di Battle of Azeroth, la nuova espansione in uscita il prossimo 14 Agosto.