L'estate è finita, ma è arrivata una nuova Twitch Most Watched, la classifica dei titoli più visti/trasmessi sul famoso portale di streaming. Il mese di settembre 2018 è stato particolarmente movimentato nella classifica esport, che ha registrato un cambio al vertice.
Esports Chart
Counter-Strike: Global Offensive conquista la vetta della classifica esport. Lo sparatutto made in Valve scavalca Dota 2 dal trono di titolo videoludico competitivo più visto. Il merito di ciò spetta principalmente al FaceIT London Major, il quale per tre settimane ha centralizzato l'intero universo Twitch e le 51.1 milioni di ore ne sono una dimostrazione.
Dota 2 e League of Legends completano il podio, ma il ruolo del "canguro" in questo mese spetta a World of Warcraft. L'arrivo della Battle of Azeroth è stato il perno delle varie competizioni di WoW e l'interesse per la nuova espansione ha generato un quantitativo di 1.7 milioni d'ore, che valgono al titolo Blizzard l'ottava posizione e un balzo di 24 posti.
Menzione d'onore merita Rocket League e la sua quinta posizione, con 3.9 milioni d'ore dedicate all'inizio della stagione 6 della Rocket League Championship Series.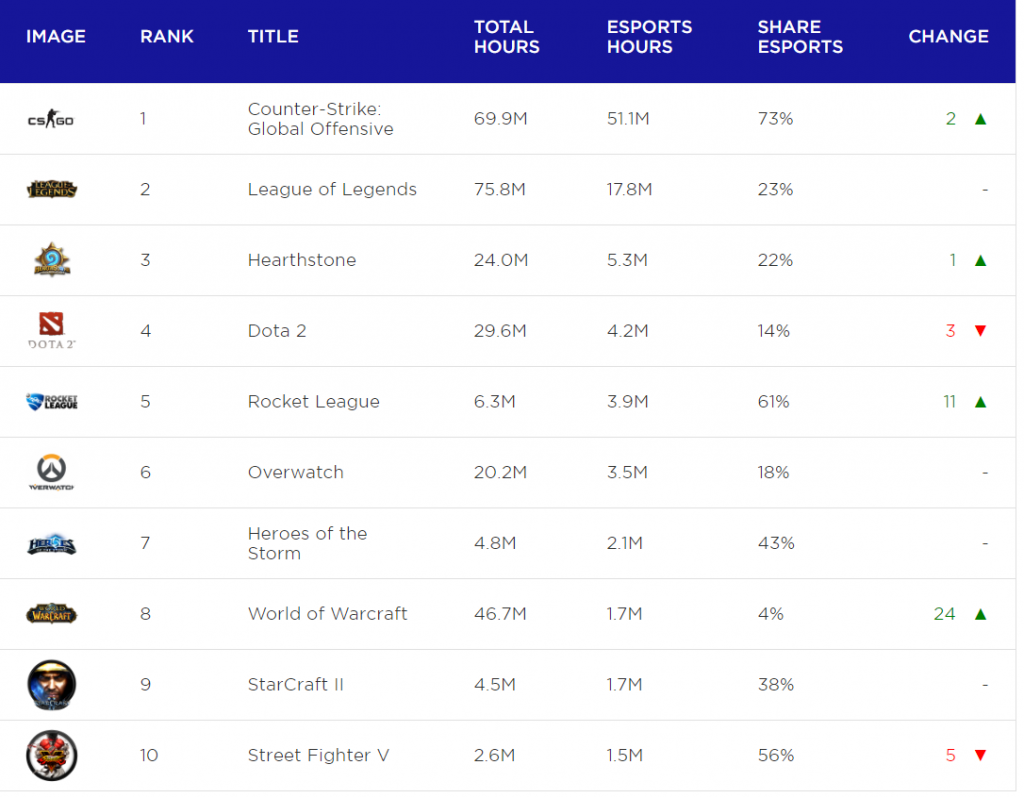 General Chart
La classifica generale è dominata ancora una volta da Fortnite. Il popolare battle royale di Epic Games rimane in vitta superando ancora una volta le 100 milioni d'ore di streaming.
League of Legends mantiene la seconda piazza, mentre a completare il podio c'è CS:GO, il quale beneficia degli effetti della vetta nella Esports Charts.
La general Chart di settembre 2018 registra l'ingresso di due new entry, ossia Call of Duty: Black Ops 4 e Destiny 2. La possibilità di provare il quarto capitolo della serie Black Ops è stata accolta con successo tale su Twitch da guadagnarsi la nona posizione con 19.8 milioni d'ore. Decima posizione invece per Destiny 2, le cui 19.7 milioni d'ore sono state dedicate all'arrivo della nuovo DLC chiamato I Rinnegati uscito lo scorso 4 settembre.