Il dado è tratto. Le 24 squadre partecipanti al più importante torneo di League of Legends dell'anno sono state smistate attraverso il LoL World Championship group draw, live dai canali ufficiali Riot Games, dalle (s)fortunate mani di Amazingj e Rookie.
Quest'anno la struttura del campionato del mondo sarà più complessa. Vediamo dunque in che modo si affronteranno i team nelle 3 fasi dell'evento.
Play-In Stage
Il World Championship 2017 partirà il 23 settembre a Wuhan (Cina) con una fase preliminare detta Play-In Stage. In questo turno 12 squadre si affronteranno all'interno di 4 gruppi in un Double Round Robin (Best of 1).
Le prime 2 di ogni girone avanzeranno al turno successivo, mentre la terza saluterà subito la competizione. Ciascuna delle prime classificate sfiderà una delle 4 seconde (scelta in modo casuale) in una Best of 5 che decreterà la qualificazione al Group Stage.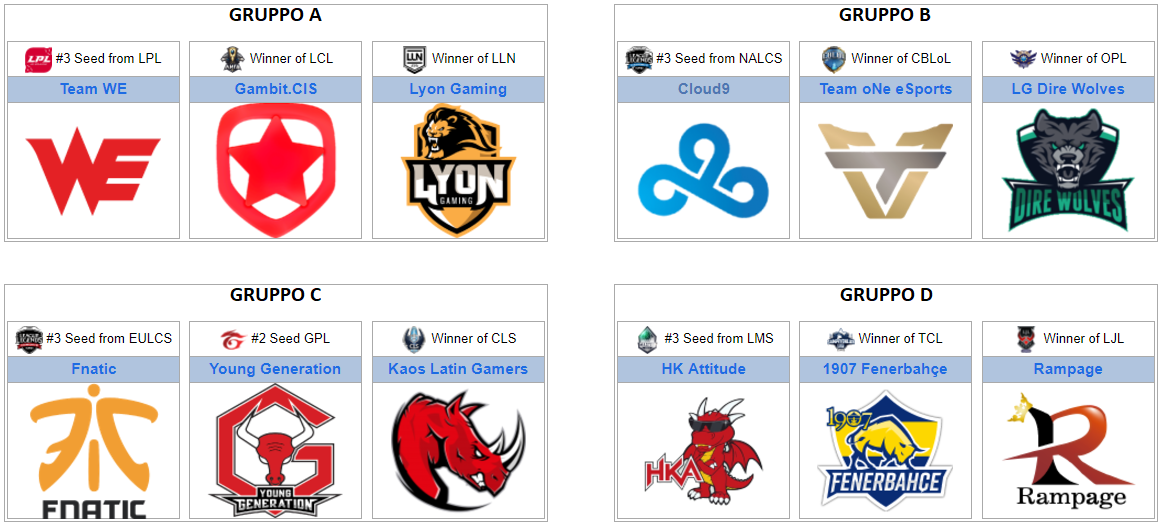 La vecchia guardia torna a splendere nel gruppo A. Il primo club di esport nato in Cina (e 3° seed LPL) Team WE affronterà i russi Gambit.CIS e i vincitori del torneo America Latina Nord (i messicani Lyon Gaming) in un girone dal sapore nostalgico: WE e Gambit fecero infatti la loro ultima apparizione in un World Championship rispettivamente nella Stagione 2 e nella Stagione 3.
Il 3° seed nord americano Cloud9 si scontrerà nel gruppo B con i brasiliani oNe eSports e gli australiani LG Dire Wolves. Gli europei Fnatic (3° seed dell'EU LCS) dovranno vedersela nel gruppo C con il 2° seed della Garena Premier League – i vietnamiti Young Generation – e con i vincitori del torneo America Latina Sud (i cileni Kaos Latin Gamers). Infine nel gruppo D si sfideranno il 3° seed taiwanese Hong Kong Attitude, i vincitori del campionato turco Fenerbahçe e i giapponesi Rampage.
Group Stage
I 16 team si sfideranno all'interno di 4 gruppi in un Double Round Robin (Best of 1). I primi due team di ciascun girone avanzeranno alla fase Knockout. Prima dell'inizio della competizione, a ciascun gruppo verrà aggiunto una delle 4 squadre provenienti dal Play-In Stage.

Il LoL World Championship group draw è proseguito dunque con la formazione della fase a gironi.
Cammino interessante per il 2° seed taiwanese ahq e-Sports, che si troverà davanti nel gruppo A non solo la prima squadra cinese EDward Gaming, ma anche il dream-team dei record SKT. Il gruppo B sarà invece formato dai campioni sud coreani in carica Longzhu Gaming, dagli americani Immortals e dai vietnamiti Gigabyte Marines. Il 1° seed EULCS G2 Esports si troverà faccia a faccia con i sud coreani Samsung Galaxy e con i cinesi Royal Never Give Up, entrambi team con giocatori di grande esperienza come Uzi e Ambition. Per finire, i campioni americani TSM affronteranno gli underdog europei Misfits e i taiwanesi Flash Wolves.
Knockout Stage
La fase conclusiva del League of Legends World Championship sarà un torneo a singola eliminazione con match Best of 5. La competizione sarà serratissima ma, alla fine dei giochi, il team migliore verrà incoronato Campione del mondo di League of Legends 2017. L'appuntamento con il Gran Finale della Stagione 7 è fissato per il 4 novembre.
Ora non resta che attendere il via, e che l'assalto al trono degli SK Telecom T1 abbia ufficialmente inizio.