Poche ore fa si è concluso l'ultimo turno della fase Play-In Groups del League of Legends World Championship 2017. A seguire, sono stati resi noti gli abbinamenti per lo step successivo del torneo, i Play-In Knockouts.
I nostri Fnatic hanno concluso il girone C al primo posto, seppure con qualche difficoltà contro gli Young Generation.
Risultati dell'ultima giornata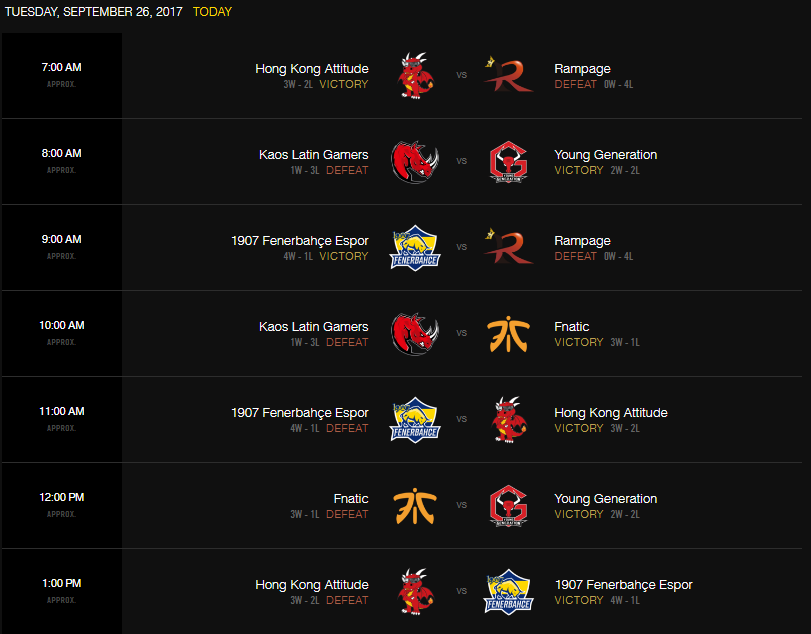 A differenza dell'ultima partita tra i Fnatic e gli Young Generation, stavolta non è stato Caps a sottovalutare il suo avversario. Rekkles e Jesiz hanno commesso l'errore di prendere sotto gamba la botlane del team asiatico. Il riverito ADC europeo è stato completamente distrutto in laning phase da BigKoro (che stava usando Varus) e Palette (che forniva supporto ed effettuava pressione con Lulu). Il divario creatosi nella corsia inferiore è rapidamente sfuggito di mano in maniera incontrollabile sulla mappa, fino a quando un Baron Throw dei Fnatic ha immediatamente decretato la loro sconfitta.
Sniped by BigKoro for the 3-1 kill lead! #Worlds2017 pic.twitter.com/JMhEY0beZZ

— lolesports (@lolesports) September 26, 2017
La tensione tra Hong Kong Attitude e 1907 Fenerbahçe Espor è stata sicuramente un fattore che ha dato un sapore più piccante alle sfide del Gruppo D. Le due squadre sono riuscite entrambe ad avere uno score di 3\1 (a discapito della terza squadra del girone, i Rampage), richiedendo la necessità di un Tie-breaking Match. Lo spareggio è stato lungo e sofferto, ed ha visto trionfare i Fenerbahçe. Sicuramente due squadre da tenere d'occhio per le future fasi del torneo.
Guardando alla prossima fase
I team eliminati dalla fase Play-In Groups sono stati i Dire Wolves, i Rampage, i Kaos Latin Gamers e, contro i pronostici, anche i Gambit, che lasciano con l'amaro in bocca tutti i fan che si aspettavano un loro ritorno in grande stile. In ogni caso la loro presenza al mondiale di League of Legends è comunque un ottimo risultato per la squadra russa, che non si vedeva da un po' sugli stage internazionali.
Le squadre che passano alla prossima fase sono le seguenti, e sono già stati sorteggiati gli abbinamenti:

Restate sintonizzati su TGM per ulteriori aggiornamenti!