Quello appena concluso è stato un weekend ricco per CS:GO, grazie a due eventi che si sono svolti tra Bangkok ed Arlington.
Il nostro viaggio inizia proprio nella capitale della Thailandia per la prima edizione del Toyota Master, evento sponsorizzato da Toyota Thai e dai ministeri dello Sport e Cultura dello stato asiatico.
Nonostante l'assenza di team di prima fascia, il torneo ha riservato un'ottimo spettacolo nella fase ad eliminazione diretta.
All'ultimo atto della manifestazione thailandese hanno avuto accesso gli scandinavi Heroic e i cinesi Tyloo. Gli europei sono arrivati alla finale conquistando il girone B di qualificazione ed eliminado i Renegades per 2-1, dopo un supplementare disputato su Mirage. I cinesi invece sono partiti dai quarti di finale e, con un doppio 2-1, hanno eliminato i pro100 e gli AGO Esports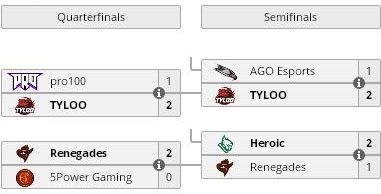 Gli eroici contro i dragoni
Il primo atto della finale si è svolto su Dust2, mappa sorprendentemente scelta dagli Heroic nonostante il 33.3% di winrate. La decisione è risultata efficace visto l'esito del set, una netta affermazione degli europei che hanno conquistato il set col punteggio di 16-5. Ottima la performace di Mertz, il quale conclude il game con un differenzxiale K/D di +21.
Il secondo set si è invece disputato su Overpass, scelta dagli Tyloo visto il ban iniziale su Cache. Qui che sono entrati in scena dei protagonisti inaspettati, ossia i round supplementari. Ci sono voluti, infatti, ben tre overtime per far in modo che gli Heroic conquistassero il secondo punto.
Una mappa combattuta da ambo le parti sbloccata soltanto con le giocate di MODDII e frieberg, che hanno permesso agli scandinavi di prevalere sui cinesi.
Supplementari presenti anche nella terza mappa di giornata, Train, conquistata dai Tyloo. In vantaggio per 13-8, gli asiatici si sono fatti rimontare sino al 15 pari prima di portare a casa il set per 19-16.
La vittoria su Train ha ridato slancio al team asiatico, che è riuscito a portare il match al quinto e decisivo set dopo la vittoria per 16-12 su Mirage.
Il Toyota Master si è deciso al tiebrak su Inferno, dove i team hanno buttato fino all'ultimo headsgot per conquistare la vittoria. Il gioco è rimasto in equilibro fino alla seconda metà del set, per poi cadere nelle mani degli Heroic per 16-13 e con un Es3tag da +13 di K/D.
🏆We are the winners of Toyota Masters Bangkok 2018!🏆

Thank you for all the support, next stop Dreamhack Open Winter 2018!#BeHeroic pic.twitter.com/ewRALFmuXW

— Heroic (@heroicgg) November 25, 2018
La squadra si è così portata a casa i 40.000 $ di primo premio del Toyota Master.