Puntuale come un orologio svizzero, torna l'appuntamento con la Twitch Most Watched, la classifica dei titoli più visti/trasmessi sul famoso portale  viola.
Il mese di Aprile si chiude con un nuovo cambio al vertice all'interno della classifica esport.
Esport: cambia il nome ma il padrone è sempre lui
Il genere MOBA continua a dominare all'interno della esport chart. Marzo ha visto League of Legends conquistare la vetta, aprile invece vede il ritorno al vertice di Dota 2.
Il popolare titolo della Valve risale per merito delle Asian Championship e delle SLI Series 5, che hanno fruttato un quantitativo pari a 21.3 milioni ore di streaming.
Sul podio si confermano Overwatch (17.2M dedicate alle Overwatch League e alle divisioni inferiori) e League of Legends (14.3M riservate alle varie finali regionali)
La sorpresa di questo mese è, senza ombra di dubbio, FIFA 18. Da Manchester a Napoli passando per Londra, le gesta dei player del popolare titolo sportivo sono state trasmesse per 1.7M, che valgono un balzo di venti posizioni fino alla numero nove.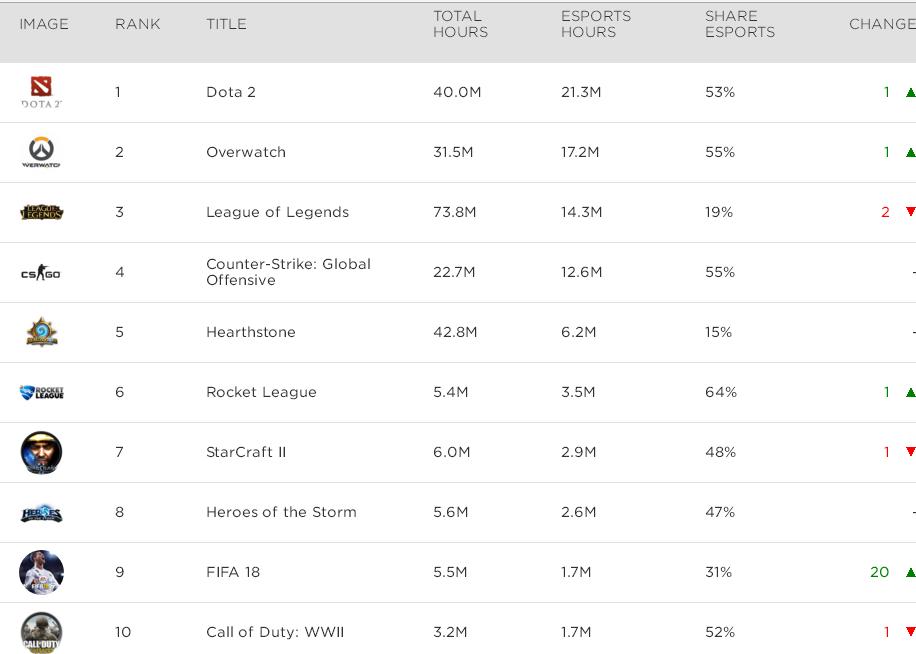 General: Tra il bosco e i fiordi
La classifica generale di aprile vede un congelamento delle posizioni al vertice, con Fortnite (che supera il muro delle 120 milioni di ore di streaming), League Of Legends e PlayerUnknown's Battlegrounds stabili sul podio.
Dietro al trio c'è da segnalare il balzo in avanzi di Hearthstone. Il popolare gioco di carte made in Blizzard  passa dalla sesta alla quarta posizione con le sue 42.8 milioni di ore, dedicate principalmente alla scoperta della nuova espansione Witchwood che apre l'anno del Corvo.
Dulcis in fundo, alla posizione numero otto arriva come new entry l'atteso ritorno di God of War.
Dallo scorso 20 aprile, le gesta di Kratos e del figlio Atreus  nella mitologia norrena hanno deliziato le ore di molti streamer, che hanno dedicato al titolo della Santa Monica un corrispettivo pari a 19.9 milioni di ore diventando la più alta new entry di quest'anno  (superate le 14.4 M di Sea of Thieves di Gennaio).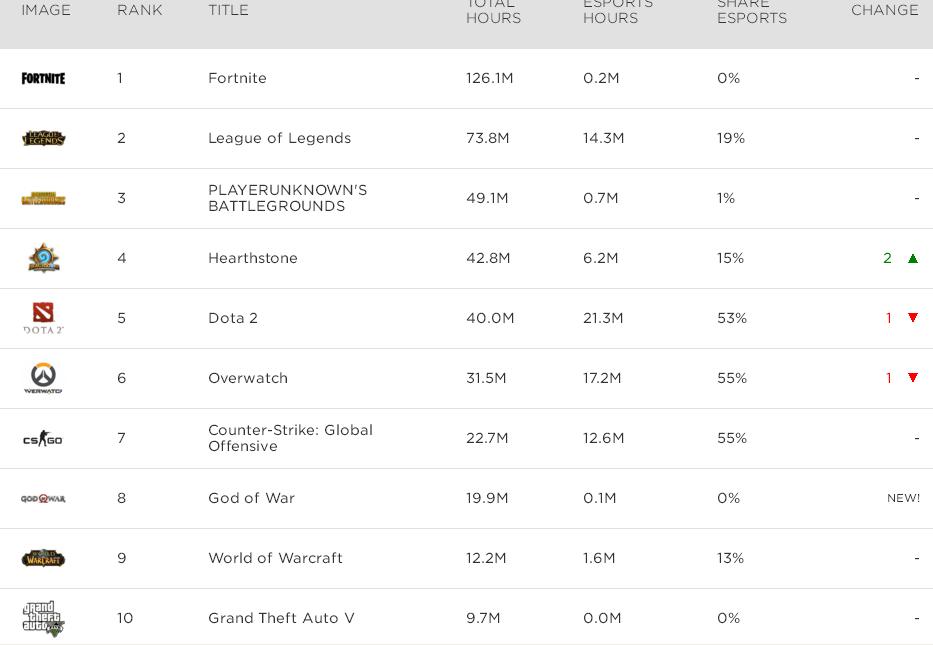 Commenti