Il CWL New Orleans Open – primo major internazionale di Call of Duty WWII del 2018 – si è concluso domenica scorsa. L'Ernest Morial Convention Center ha accolto un numero record di partecipanti al torneo: più di 260 team hanno "tentato la sorte" nell'enorme Open Bracket gauntlet, dal quale solamente i primi 4 team sono usciti vincitori, portandosi a casa un biglietto per il group stage.
A sfidare le 16 big, già inserite nei 4 pool, sono stati Lightning Pandas, GGEA Orange, Evil Geniuses e GGEA Blue.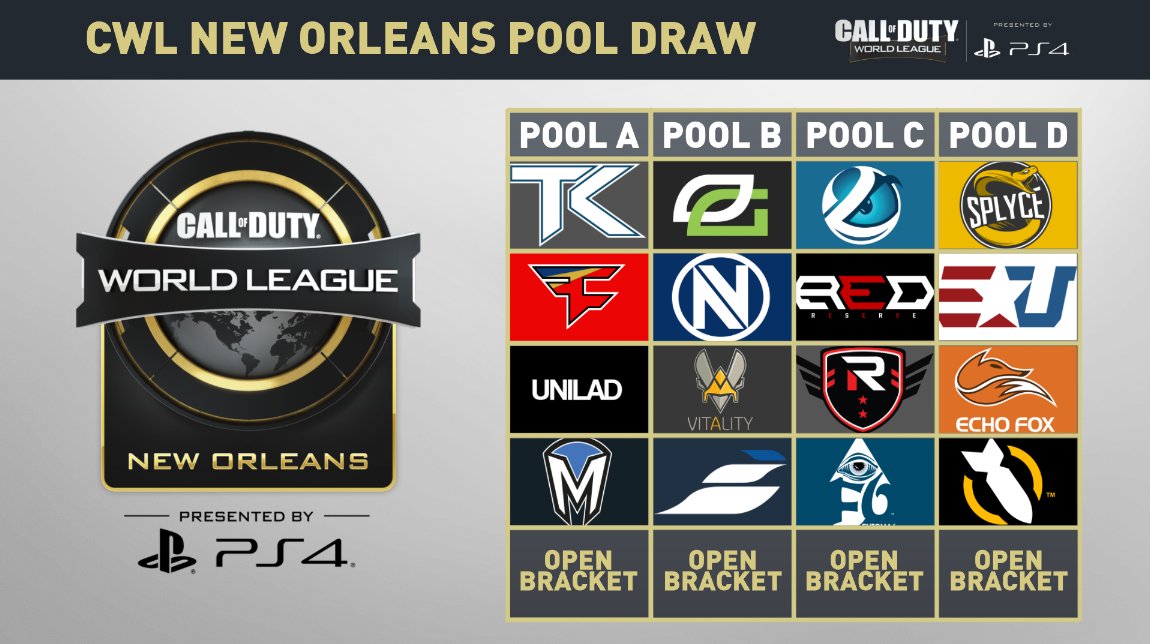 Le 20 formazioni si sono così scontrate in una serie di match all'interno dei gironi, per poi finire in un bracket a doppia eliminazione.
Di queste, ad approdare alla fase conclusiva del CWL New Orleans Open sono state solamente 4: Kaliber e Luminosity Gaming – che, senza particolari difficoltà, hanno conquistato il Winner's Bracket – e Red EU e Rise, che hanno invece dovuto farsi strada tra le relegate del girone dei perdenti.
La finalissima
A contendersi il gradino più alto del podio nel match conclusivo del torneo sono stati il Team Kaliber e i Luminosity Gaming. I primi, già campioni del Dallas Open lo scorso dicembre, sono decisamente partiti col piede sbagliato, perdendo la prima serie per 3-1. Arrivati alla seconda Best of 5, tuttavia, la musica è cambiata. Portandosi a casa London Docks (Hardpoint), Ardennes Forest (CtF) e Sainte Marie du Mont (SaD) e con un punteggio finale di 3-2, i Kaliber si sono così laureati campioni di un CWL Open per la seconda volta consecutiva, portandosi a casa ben 80 mila dollari, 25 mila PRO Points e il titolo di MVP del torneo grazie a Martin "Chino" Chino.
Il prossimo appuntamento major sarà dal 9 all'11 di marzo con il CWL di Atlanta, sempre in diretta sui canali Twitch callofduty (in lingua inglese) ed mlg_it (in lingua italiana).