Con un match epico gli SK Telecom T1 e Faker sono riusciti a trionfare sui RNG, riservandosi un posto in finale per l'ennesimo anno consecutivo.

Le partite sono state sicuramente sudate per gli SKT, che hanno fatto fatica a tenere testa ad un team così forte e consistente. La squadra coreana in questo mondiale è stata vista più volte vacillante, anche contro i Misfits, dimostrando che il gap tra Faker e gli altri concorrenti del panorama mondiale va via via assottigliandosi.
Il "problema" principale degli SK Telecom rimane l'early game poco intraprendente, e l'avversione al giocare in maniera rischiosa. Intendiamoci, più che una debolezza di tratta semplicemente di un aspetto in cui la squadra non eccelle, ma sicuramente è stato il punto di inizio sul quale i loro avversari si sono concentrati.
Il Colosso della Corea
Faker è riuscito ancora una volta ad essere il perno strategico della sua squadra, giocando esclusivamente Galio in midlane per tutte e cinque le partite. Questo personaggio ha lo stesso punto di forza del "Re dei Demoni", ovvero la poliedricità strategica, e non sorprende che Faker adori giocarlo (da notare infatti che lo usi di frequente anche in solo Q).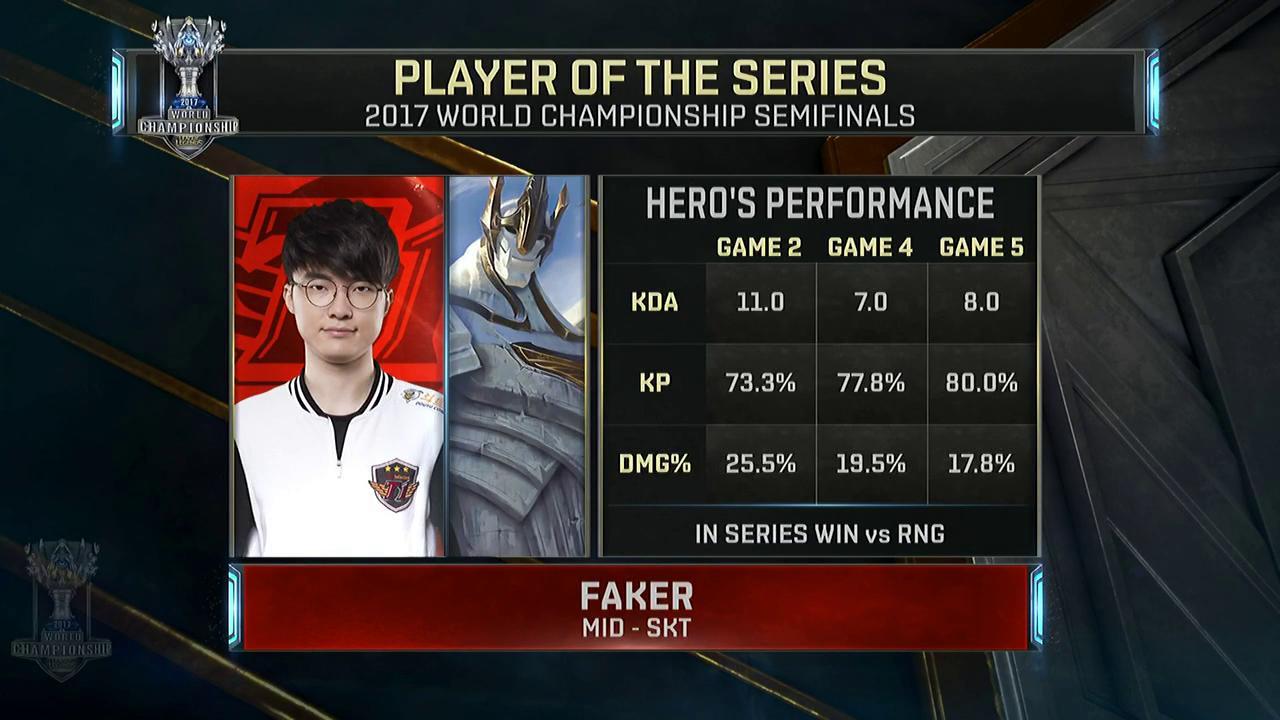 Galio, grazie al suo kit, è prono sia all'essere un personaggio aggressivo in early che al diventare un tank difensivo nel lategame, quando i suoi danni iniziano a mancare. Guardando le partite di oggi stupisce quanto Faker sia riuscito a giocare sia il ruolo del midlaner aggressivo ed onnipresente che quello del tank, concentrato sul supportare per esempio il Kog'Maw di Bang.
A huge teamfight near Baron goes in favor of @sktelecom_t1 as they pick up 4 unanswered kills! #Worlds2017 pic.twitter.com/sYz9vPfrZe

— lolesports (@lolesports) October 28, 2017
Il Colosso, combinando ottimi danni di base, la capacità di pulire con efficienza le ondate di minion, ed un numero abnorme di CC e mobility è davvero un personaggio difficile da affrontare, capace di adattarsi a diverse tipologie di composizioni di squadra (gli SKT infatti lo sceglievano tranquillamente come primo pick). Non sorprende il fatto che Riot stia già sperimentando maniere per imporre ai giocatori di Galio di differenziare le sue build.
Domani verrà giocato il match tra il Team WE ed i Samsung Galaxy, e sapremo chi andrà in finale contro gli SKT. Restate sintonizzati, presto conosceremo i nomi dei campioni mondiali di League of Legends!