Appuntamento di Marzo con le Twitch Most Watched, le classifiche dei titoli più visti sul famoso portale di streaming
Rispetto allo scorso mese, grosse novità ai vertici di entrambe le graduatorie.
Esports Chart: il ritorno di LoL
Dopo due mesi al vertice, Counter-Strike: Global Offensive perde la vetta, a scapito del ritorno di League of Legends. Merito della mancanza di eventi di calibro per il titolo made in Valve e dell'arrivo delle fasi finali dei vari Spring Split.
In risalita i titoli Blizzard, con Overwatch a far da traino. La Overwatch League inizia davvero a carburare e regalano al titolo la seconda posizione con le sue 17.9 milioni di ore.
Migliorano anche StarCraft II, che si piazza al sesto posto con le 8.3M di ore dedicate principalmente a eventi del ventennale del titolo, e Heroes of the Storm, arrivato all'ottavo posto.
Rientra nella Top 10 per Rocket League. Il settimo posto in classifica è merito dell'arrivo delle qualifiche alle finali della season 5 delle RL Championship Series.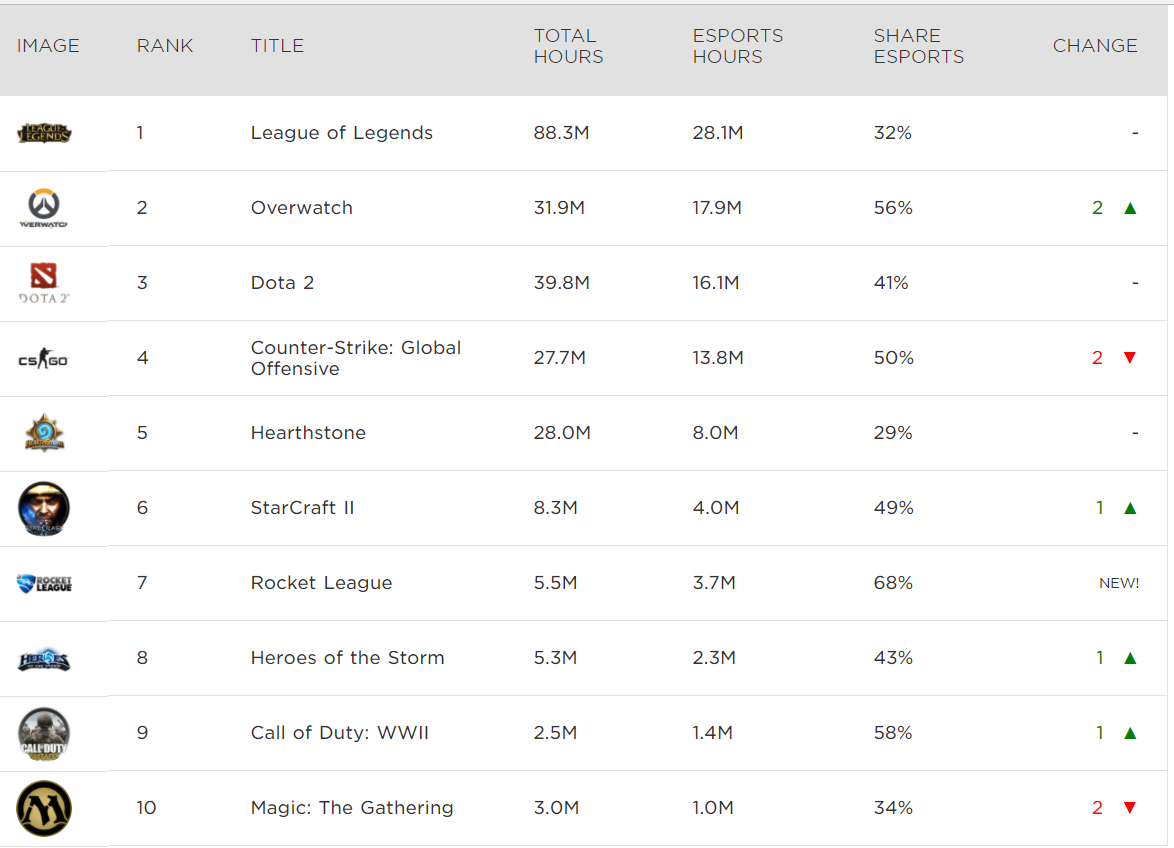 General Chart: storico sorpasso
Il mese di Marzo nella classifica generale vede uno storico sorpasso: dopo due anni al vertice, League of Legends cede lo scettro al nuovo trand a tema di multiplayer online, Fortnite.
Il titolo della Epic Games diventa il nuovo leader della classifica generale grazie alle sue 115.1milioni di ore trasmesse, merito principalmente dell'effetto Ninja. Il popolare streamer ha battuto qualsiasi record individuale presente su Twitch, tra cui quello della diretta più vista in assoluta (635.000 views di picco massimo il 15 Marzo assieme ai rapper Drake e Travis Cott e al giocatore di football americano JuJu Smith-Schuster).
Menzione d'onore merita Sea of Thieves, l'open world in tema pirati creato dalla Rare.
Il gioco, rilasciato il 20 marzo dopo una fase di early access, ha riscosso successo tra i vari steamer, i quali sono arrivati a dedicargli 15.2 milioni ore di trasmissione che valgono al titolo il ritorno della top 10 in ottava posizione.