Le ultime partite del National Circuit Italy Stage 1 della Call of Duty World League si sono concluse. Il torneo online ha regalato non poche emozioni, assieme ad alcune tra le migliori prestazioni offerte da squadre italiane nell'ultimo periodo.
A partecipare sono state le 8 squadre di CoD: WWII della regione con il numero più alto di Pro Points: ChargedUp, EnD Gaming, Team Forge, iDomina Esports, Team Forge.Black, Bulldog eSports, T3H Esports e Cyberstorm. In palio al vincitore un premio che farebbe gola a chiunque. Oltre a 1000 dollari e 3000 Pro Points per giocatore, ai campioni verrà offerto il viaggio tutto incluso per l'Open di Atlanta il 9 marzo, dove avranno la possibilità di competere a livello mondiale.
Una vittoria annunciata
A occuparsi del cast della diretta delle ultime sfide dell'evento sul canale MLG italiano sono stati il vocione di Ivan "Rampage In The Box" Grieco, Christian "Canphh" Campagna e Filippo "Frido" Cacciapuoti.
I ChargedUp hanno raggiunto la fase conclusiva del torneo senza perdere nemmeno un incontro. Sin dal primo round della loro sfida contro gli iDomina la loro superiorità è parsa netta.
Nella prima mappa Wartex è stato in grado di superare da solo le 50 uccisioni e totalizzare 5700 punti, dominando completamente la competizione.
Il resto della partita è stata quasi una passeggiata per Fjeldzy, Pacobey8, TheJDS97 e Wartex, che portano a casa la semifinale con un secco 3-0.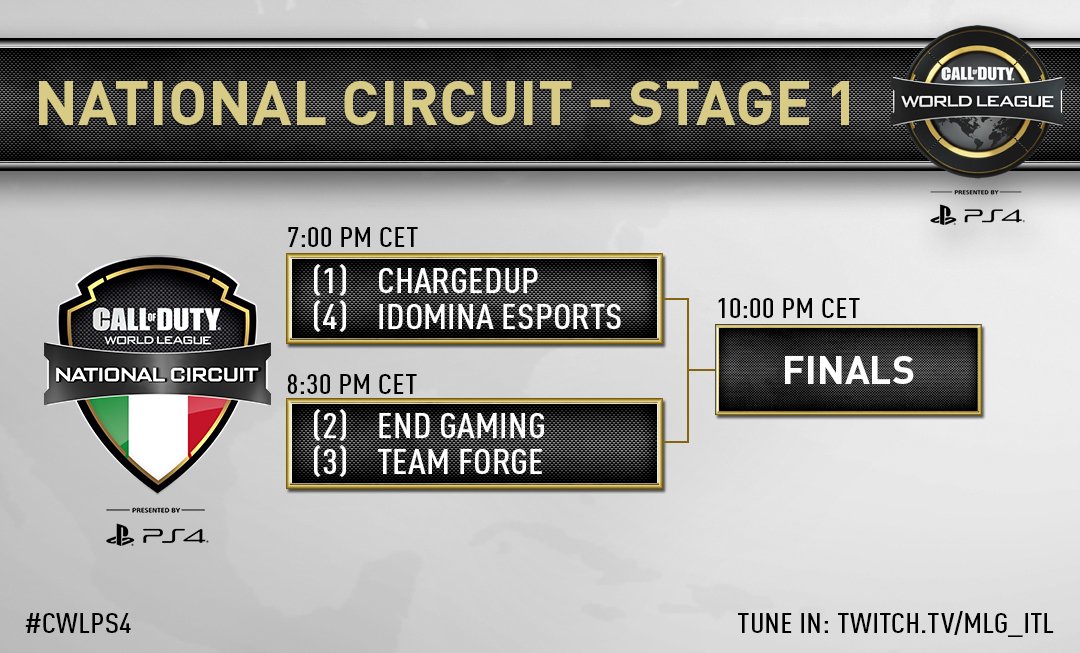 I favoriti  hanno poi ottenuto lo stesso punteggio anche in finale. Gli EnD, reduci dalla vittoria contro il Team Forge per 3-1, non sono riusciti a resistere allo strapotere dei ChargedUp. La squadra di NPredax, Revoltpls, SamB e VeloXey non ha potuto far altro che rallentare solo di un poco l'avanzata degli avversari.
Con un altro 3-0, i ChargedUp hanno così vinto il National Circuit Italy Stage 1 (perdendo durante tutta la competizione solo 2 mappe) e voleranno ad Atlanta con merito. Le sfide del circuito italiano, comunque, non sono ancora finite. I nostri giocatori potranno farsi notare nei rimanenti 3 stage della competizione; il prossimo incontro con la lega italiana sarà il 16 marzo, poco dopo il CWL Atlanta.