Il 2017 è terminato. Con esso, anche le varie classifiche annuali e la Twitch Most Watched giungono al termine annuale con la classifica dei titoli più visti nel mese di dicembre.
Esport: podio immutato, sale CoD
Rispetto a novembre, il podio dei titoli esportivi più visti rimane immutato con Dota2 al vertice (con le sue 11.8 milioni di ore di streaming), seguito da Counter Strike:Global Offensive e League of Legends.
Vertice che potrebbe cambiare già da questo mese, visto l'accordo tra ESL-Facebook che sta portando una raffica di ban da parte di Twitch in merito alla trasmissione di eventi targati ESL.
Il balzo del mese spetta a Call of Duty:WWII, che entra nella Top Ten alla 5° posizione con un balzo di 26 posizioni. Merito delle 1.6 milioni di ore trasmesse, principalmente focalizzate sulla tappa di Dallas della CoD World League.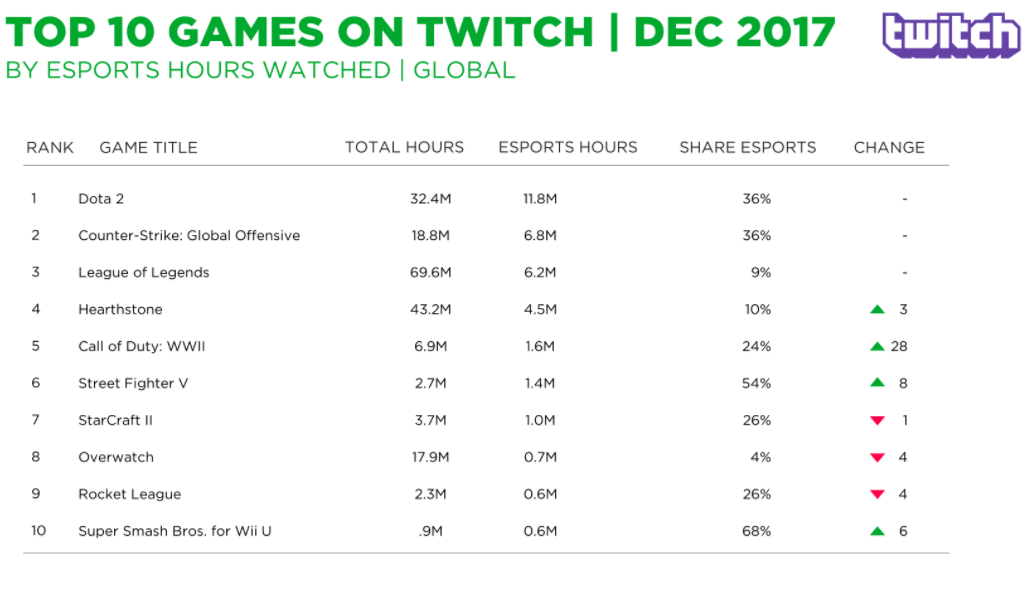 General: l'ascesa dei survival game
Con League of Legends ancora dominatore della scena (con le sue 69.6 milioni di ore trasmesse), dicembre è stato il mese dei survival game.
Il rafforzamento di PlayerUnknown's Battlegrounds al secondo posto e l'ascesa di Fortnite al quarto sono accompagnati dall'arrivo di un nuovo titolo. Si tratta di They Are Billions, un survival RTS in tema zombie.
Rilasciato il 12 dicembre, il titolo della Numatian Games ha attratto le attenzioni di molti streamer, tanto da generare in poco meno di tre settimane 6 milioni d'ore di streaming e collocarlo come new entry al 13°posto della classifica generale.
Menzione d'onore merita Path of Exile che, grazie all'uscita dell'espansione War of the Atlas, ha riportato il titolo nella top ten generale piazzandolo al decimo posto con 9 milioni d'ore.