Eccoci qui a seguire la sesta settimana delle EU LCS 2017, con pochi colpi di scena ma sicuramente qualche scelta inusuale.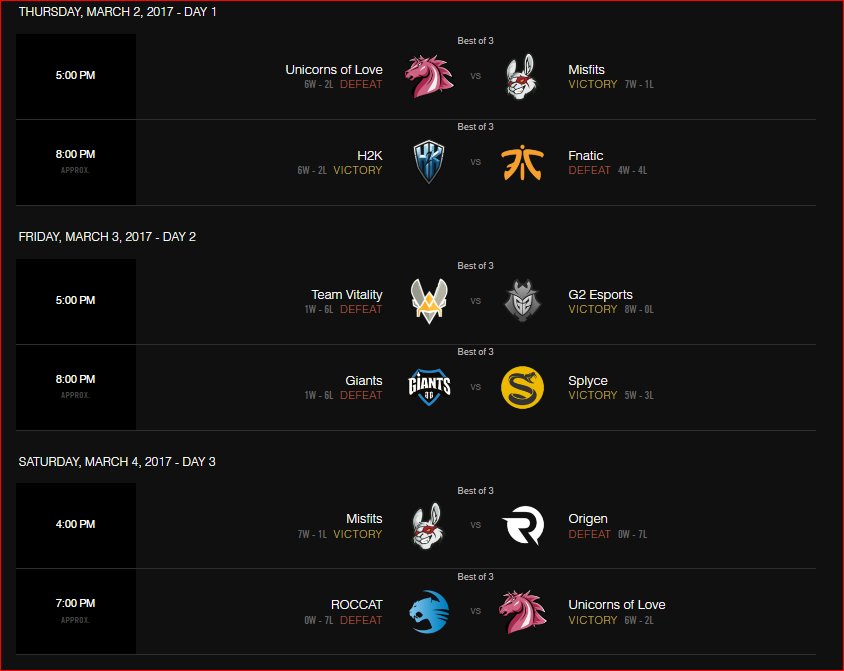 Unicorns of Love VS Misfits
Gli Unicorns avevano poche speranze, cosa che si è vista ampliamente nella prima e nella terza partita; ma in ogni caso i Misfits hanno sottovalutato troppo gli UOL nella seconda: lasciare nella pick\ban phase Maokai, regalare un Drago Infernale fin dall'inizio e cedere le proprie strutture con troppa facilità ha segnato sicuramente l'esito in loro sfavore.
Errori del genere saranno da evitare assolutamente in futuro, soprattutto contro squadre con così tante risorse come gli Unicorns.
H2K VS Fnatic
Riassunto del match:
Eloquente, vero?
Team Vitality vs G2 Esports

Non ho capito se i G2 Esports a quel punto stessero prendendo in giro il Team Vitality o quella è semplicemente una build sperimentale per Nidalee, ma in ogni caso: molto interessante.
Una della capacità più sfruttate della cacciatrice sexy, oltre ai danni enormi della sua forma felina, è quella di riuscire ad aiutare il suo ADC con lo steroide della velocità d'attacco e fornendogli cure nelle fasi di siege, ma vederle nell'inventario il Calice di Atene e la Redenzione sembra davvero inusuale.
Classifica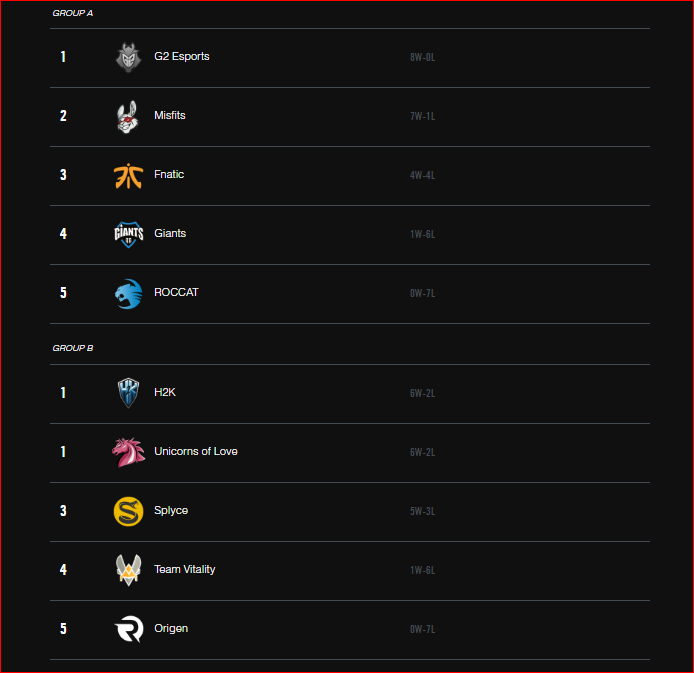 I G2 Esports, senza troppe sorprese, mantengono il primo posto della classifica, seguiti dai Misfits, che quest'anno sembrano essere il team che gli farà maggiore concorrenza. Al terzo posto troviamo a pari merito gli H2K e gli Unicorns of Love, da cui ci aspettiamo sicuramente qualche sorpresa.
Origen ha sicuramente una marcia in meno rispetto agli altri anni, non li avevamo mai visti fare performance così scadenti.
Commenti