"Play For Fun, Play To Beat!". Questo è il motto scelto per un'occasione davvero importante come quella della prossima One Night Cup di Overwatch.
L'evento in questione – che si terrà il 28 marzo a partire dalle ore 20:30 – non sarà, infatti, un semplice torneo tra 8 delle squadre di punta italiane dell'FPS Blizzard. La parola d'ordine della serata non sarà vincere, bensì donare.
Con "Noi da grandi"
La One Night Cup sarà trasmessa interamente su Twitch e avrà lo scopo di raccogliere donazioni a favore di "Noi da grandi". L'associazione nasce a Empoli nel 2008 su iniziativa di genitori di ragazzi portatori di handicap. L'obiettivo è quello di far acquisire ai giovani le competenze necessarie per raggiungere la piena autonomia.
La serata di beneficenza è promossa da Beat Gaming (acronimo di "Building Events And Training") e dal partner ufficiale Female Esports. Beat è una A.S.D. nata nel 2018 per promuovere e diffondere la cultura videludica e dell'esport. Il suo scopo fondamentale sarà anche quello del torneo stesso: diffondere i valori di divertimento e sana competizione, parità e unione, condivisione e sostegno.
L'idea di organizzare un evento di beneficenza è nata dalla volontà di associare un importante significato a un classico evento di eSports "for fun" e, al contempo, sensibilizzare i ragazzi che partecipano e seguono questi eventi verso realtà differenti che necessitano di aiuto e attenzione. Il messaggio che vogliamo trasmettere è che basta poco per fare tanto per gli altri.
Abbiamo scelto Overwatch come gioco rappresentativo perché uno dei messaggi trasmessi da Blizzard è rivolto all'interesse e al rispetto per la diversità che è intesa come punto di forza all'interno di un gruppo che collabora.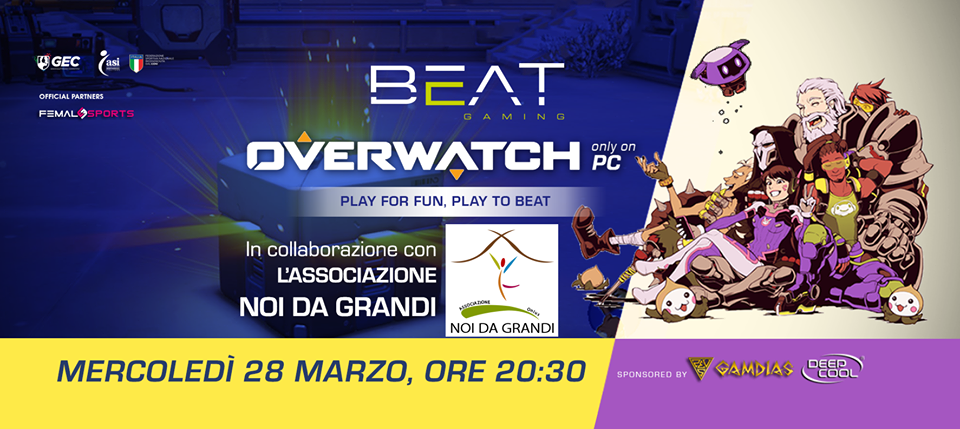 La serata potrà vantare la partecipazione di importanti ospiti appartenenti al mondo dell'esport, con i quali si chiacchiererà tra un match e l'altro, che verranno rivelati in questi giorni.
Alla One Night Cup parteciperanno 8 team appartenenti alle migliori organizzazioni italiane, tra cui Qlash, Esox Multigaming, HellGaming, Manguste eSports, Firewall Gaming e Unique.
Le partite saranno 6 vs 6, a eliminazione diretta in un unico round e saranno tutte interamente commentate dallo staff di Beat. Durante la serata sarà possibile per chiunque poter donare a propria scelta in favore dell'associazione.