Le RLCS Season X si prendono una pausa dopo un lungo percorso fatto dalla sessione autunnale e parte della stagione invernale.
Un lungo periodo di quattro settimane in cui i vari team si godono il tempo partecipando a vari eventi collaterali.
Uno di questi è la Rocket League Summit, torneo organizzato dalla Beyond The Summit, giunto alla sua seconda edizione.
Rassegna divisa in due stage in cui si sono presentate le migliori formazioni europee e quelle nordamericane.
Competizione, complice non essere collegato alle RLCS, ha registrato l'uscita di scena anticipata del Team BDS.
l'organizzazione franco/svizzera, dominatori delle rassegne targate Psyonix, salutano la compagnia dopo la prima fase.
Ultimo posto nel girone A per Extra e compagni, i quali vengono sconfitti dai Dignitas e i Giants Gaming.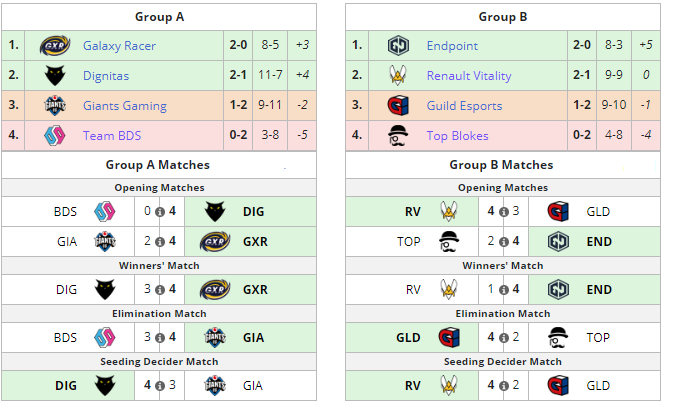 L' delle Summit europee in  cui si assiste ad una finale inedita, disputata dai sopracitati Giants e i Dignitas.
Ultimo atto molto equilibrata e rimasta tale sino al sesto set, disputato su Champions Field, dove si sono decisi le sorti del torneo.
il gol di Joreuz nel minuto finale di gioco ha permesso ai Dignitas di vincere il set per 3-2 e conquistare il titolo col punteggio di 4-2.
🎉WE ARE THE GRAND CHAMPIONS FOR ROCKET LEAGUE SUMMIT 🎉 pic.twitter.com/lbYwGRIn2C

— Dignitas (@dignitas) December 20, 2020
Molto più serrata è stata la competizione all'interno del Rocket League Summit 2 dedicato alla scena nordamericana.
Qui a contendersi il titolo sono due formazioni che risultato sempre ai vertici della scena locale ossia Rogue e SpaceStation Gaming.
Match aspro e selvaggio messo in scena dalle due formazioni, risolto solo al settimo e decisivo set, disputato sulla consueta Champions Field.
Set risolto a novanta secondi dalla fine dove Sypical realizza il gol della vittoria che blocca il punteggio sul 2-1 ed assegnare l'alloro continentale col risultato di 4-3.
THE @BTSRocketLeague CHAMPS!!

🏔 @Sypical
🏔 @RetalsRL
🏔 @ArsenalRL
⛰ @ChromeRL pic.twitter.com/PCEmjiMgy0

— Spacestation Gaming (@SpacestationGG) December 20, 2020