Il circuito Dreamhack di Starcraft 2 ritorna in scena con il terzo stage del 2020 ossia il Masters Winter.
Come di consueto, le tre settimane dedicate alle qualifiche iniziano con il trittico che vedono impegnate regioni di seconda/terza fascia.
Oceania/Resto d'Asia ,America Latina e il quartetto Taiwan-Hong Kong-Macao e Giappone aprono la strada alla corsa verso il titolo d'inverno.
Un giro del mondo iniziato nelle terre australi dove, in questo contesto, si assiste ad un vero rimescolamento delle parti.
I due vincitori delle stagioni estive ed autunnali salutano la compagnia nel primo turno dedicato alla fase ai gironi.
RiSky e Probe, infatti, escono di scena con il terzo e il quarto posto ottenuto all'interno del girone A.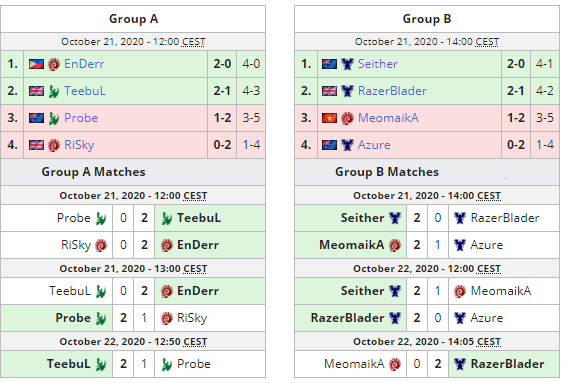 Occasione per giocatori d'altre sfere di poter guadagnare quel posto ai piani alti di tale rassegna.
Evento sfruttato al meglio dal filippino EnDerr, il giocatore zerg chiude tale sessione ottenendo il pass per le finali.
Una vittoria convincente per il rappresentante dei Liyab Esports, il quale batte 4-1 il terran Seither.
Honestly I don't know how I am feeling right now…

I just wanna thank the players who practice with me before the tournament.@YapKienKhun | @MF_Seither | Gogojoey | Expect | Bistork | Some random 5.9k Terran in KR with an account name EternalLoop. LOL.
GGs!

— Caviar Acampado (@EnDerrPH) October 25, 2020
Spostandoci di qualche centinaia di chilometri a linea d'area, il quartetto delle quattro nazioni asiatiche scrive il secondo capitolo della dinastia Nice.
Secondo alloro regionale per il giocatore protoss degli Alpha X dove, come visto nei precedenti, ha incrociato le armi con l'altro protagonista di questa latitudine ossia Has.
Un derby a tinte protoss concluso al settimo e decisivo set disputato su Submarine, una battaglia durata quindici minuti in cui le forze di Nice ha trionfato su quelle di Has.
Time to see how the Oceanic and Taiwanese regions will turn out in the Semi Finals and ultimately Grand Finals!@MF_Seither vs @RazerBladerSC2
Winner vs @EnDerrPH @Sc2Rex vs @Sc2Has
Winner vs @SC2NICE

Be sure to watch LIVE below!

📺: https://t.co/RvsmM61F3M#ESLProTour pic.twitter.com/IXunL5FvSg

— DreamHack StarCraft (@DreamHackSC2) October 25, 2020
La dinastia continua
La prima settimana delle Winter Masters si conclude con la rassegna dedicata ai giocatori dell'America Latina.
In questo ambito, la dinastia SpeCial continua a risplendere aggiornando ulteriormente i numeri di tale dominio.
Decima affermazione regionale consecutiva per il terran messicano, il quale battezza nel miglior dei modi il suo approdo nel team ExoN.
Altro successo ottenuto in maniera ottimale per il centroamericano che liquida agilmente la pratica Kelazhur col punteggio di 4-1.
Won DreamHack Latam Today.
Streaming Showmatch and Starcraft2 Ladder.
and 5pm KST IRL Stream With Armani(Eating and Talking)https://t.co/OgT3XzMHYE

— juan carlos tena (@SpeCial_SC2) October 26, 2020