Agosto è stato un mese di ferie ma non per Twitch, il quale ha trasmesso ore e ore di dirette streaming. Ritorna l'appuntamento con la Twitch Most Watched, la classifica stilata da Newzoo.com  dei titoli più visti sia a livello competitivo che globale.
Vediamo quali cambiamenti ci sono stati rispetto al mese di Luglio.
Esport: Dota 2 ritorna al vertice ma arriva PUBG
Grazie anche al supporto del The International 2017, Dota 2 si riprende lo scettro di titolo esport  più visto.
Con i suoi 36.6 milioni di ore trasmesse, il MOBA made in Valve ritorna in vetta scavalcando CounterStrike: Global Offensive che scende al terzo posto – discesa dovuta alla mancanza di Major in questo mese.
Il dominio di Dota 2 è intaccato dall'arrivo di un concorrente pronto a prendere la sua corona. Si tratta di Player Unknown's BattleGrounds il quale, iniziando dal GamesCom di Colonia, ha iniziato a trasmettere eventi live tali da raggiungere la sesta posizione con 2.3 milioni di ore.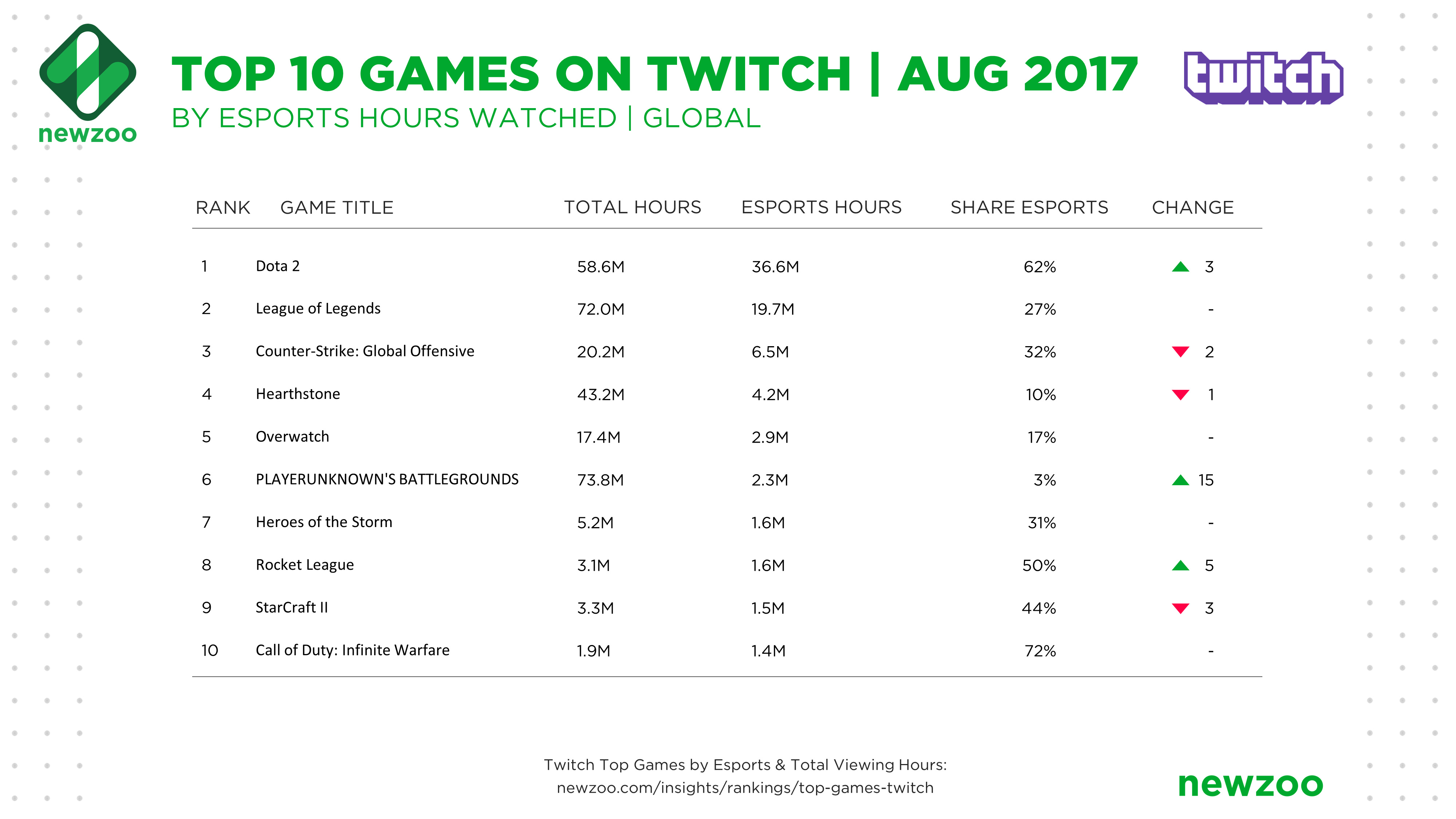 Globale: abbiamo un nuovo re
L'ascesa di PUBG si nota anche nella classifica globale dei titoli più visti su Twitch ad agosto. Dopo quasi due anni, League of Legends perde la vetta di gioco più stremmato a causa proprio di PUBG, che diventa il nuovo re di Twitch con i suoi 73.8 milioni di dirette.
Da segnalare però il boom ottenuto da parte di StarCraft: Remastered, la rivisitazione da parte di Blizzard di StarCraft, e della sua espansione Blood War.
Dalla sua uscita datata 14 Agosto, SC:R ha collezionato 3 milioni di ore di diretta che lo conducono alla diciottesima posizione con un balzo di ben 88 posizioni.
Particolare è anche il salto Path of Exile, che risale sino alla posizione numero otto, ottenuta grazie all'uscita di una nuova espansione nonché gli ingressi in Top 20 di Rocket League, Dead by Daylight e The Elder Scrolls: Legends.