Terza settimana delle Six November Major di Rainbow Six Siege, il cui percorso è giunto al giro di boa.
Una tappa, quella nordamericana, disputata nel weekend, di grossa importanza visto che dai suoi risultati può sancire la fine o il continuo dei sogni di alcune formazioni ancora in corsa per il Six invitational.
Contesa nordamericana in cui si è corso il rischio di non vedere ai nastri di partenza i campioni del mondo degli Spacestation Gaming.
Giunti al quarto posto in stagione regolare, Chala e soci hanno dovuto affrontare il Last Chance Qualifier per ottenere un posto al Major.
Qualifica vinta col brivido, ottenuta solo con l'affermazione sul tiebreak decisivo su Villa contro gli Disprut Gaming.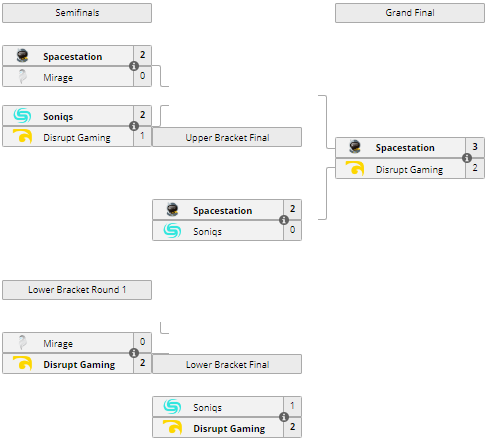 Il Major nordamericano ha riservato particolari scossoni durante il suo svolgimento, con una finale che ha riservato un risultato diverso.
In molti si aspettavano una vittoria netta dei SpaceStation ma invece a uscirne vincitori in questo scontro sono i TSM.
L'ultimo atto della rassegna nordamericana ha visto Reginald e soci ottenere la rivincita dopo la sconfitta subita nella finale Winner per 2-0.
Una vittoria schiacciante per i bianconeri che recuperano il set di svantaggio di default per imporre il proprio dominio nella Gran Final.
Un 3-1 secco, senza possibilità d'appello con cui i TSM tornano al successo dopo un lungo digiuno durato più di un anno.
TSM R6 ARE YOUR NA MAJOR CHAMPIONS 🏆

Massive congratulations to the boys on bringing home our first ever R6 Major.

LETS GO #TSMWIN pic.twitter.com/2KByFnCpMa

— TSM (@TSM) November 15, 2020
La corsa al mondiale
Alla luce dei risultati del Six November nordamericano, la corsa agli slot per il Six Invitational inizia a chiudere il proprio ciclo.
Con la partecipazione alla contesa detta in precedenza, gli Oxygen Esports entrano nella corsa, tale evento crea una reazione a catena.
i FaZe Clan ottengono  la matematica certezza di volare al mondiale. mentre gli Astra continuano a sperare per ottenere tale privilegio.
I Major dell'APAC North e dell'area Sud asiatico saranno decisive per definire il quadro delle qualificate.