Il weekend di CS:GO ha offerto due pietanze interessanti in vista del piatto forte dell'IEM di Chicago. La tappa di Copenhagen delle Blast Pro Series e la terza edizione del CS Summit hanno offerto spunti interessanti in vista dell'appuntamento americano della prossima settimana.
Danimarca giallonera
Le Blast Pro Series tornano a Copenhagen per la seconda edizione di un evento diventato un vero circuito che si affianca ai vari IEM e DreamHack.
La tappa nella terra della sirenetta verrà ricordata anche per le parole del primo ministro danese, Lars Lokke Rasmussen, dinanzi alla folla presenta in arena. Le sue parole segnano un importante passo verso il riconoscimento degli sport elettronici a livello mondiale.
In molti, da questa competizione, si aspettavano una nuova replica della sfida tra Na'Vi e Astralis. La contesa è stata però rimandata a futuri eventi perché, dopo cinque giornate, ad accedere alla finale assiem ai Na'Vi sono stati i Ninjas in Pijamas.
GeT_Right e compagni sono riusciti a raggiungere l'ultimo atto delle Blast Pro Series grazie al pareggio ottenuto nella prima giornata contro i FaZe, decisivo per la qualificazione.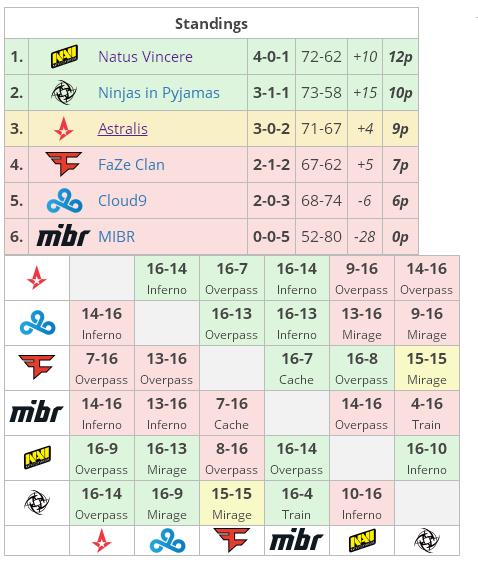 La finale della manifestazione è stata un monologo a tinte giallonere: i Na'vi sono riusciti a conquistare un'affermazione di particolare risalto.
Il punteggio finale di 2-0 è stato costruito attraverso le ottime prestazioni di eletronic. Il giocatore russo è stato trascinatore sia su Mirage che su Inferno con le sue 53 kills, decisive per la quarta vittoria stagionale.
The happy winners of @BLASTProSeries! 🏆 #NAVINATION pic.twitter.com/cUPTwuOzG3

— Natus Vincere (@natusvincere) November 3, 2018
Terza volta nella casa
Il Summit di Los Angeles è tornato per la terza edizione dopo l'edizione di Febbraio post ELeague Major. Otto i team partecipanti, tra cui due che saranno presenti anche all'IEM Chicago: BiG e NRG Esports.
L'appuntamento losangelino è risultato, per entrambi, un buon banco di prova in vista dei futuro impegno. Le squadre sono giunte alle ultime fasi del torneo ma ad evitare una finale tra le due sono stati gli Optic Gaming.
I neroverdi, dopo aver stati sbattuti in Lower Bracket dai BiG, si sono presi la loro rivincita eliminando i tedeschi nella finale Lower col punteggio di 2-1.
Nell'ultimo atto del Summit, gli Optic sono riusciti a rimontare la mappa di svantaggio vincendo su Mirage per poi essere distrutti dagli NRG.  Con i parziali di 16-8 e 16-6 su Overpass e Mirage, Brehze e soci hanno conquistato i 63.000$ di primo premio.
#NRGCSGO IS YOUR #CS_SUMMIT 3 GRAND CHAMPIONS!!!

We take down @OpTicGaming with a final map score of 3 – 1! pic.twitter.com/IAXpvjAwrW

— NRG Esports (@NRGgg) November 4, 2018
Commenti