Agosto 2018 fornisce un nuovo aggiornamento anche per le YouTube Most Watched. Come per Twitch, anche in questo caso le classifiche sono state influenzate dai grossi eventi trasmessi lo scorso mese.
Esports Chart
League of Legends mantiene la vetta della classifica riuscendo a fermare la corsa di Dota 2. Il MOBA made in Valve, spinto dal The international, si ferma in seconda posizione con le sue 3.3 milioni ore streming.
Terza piazza per la new entry Fortnite, che guadagna il podio grazie alle 400.000 ore di dirette dedicate principalmente al  Summer Skirmish.
Menzioni meritano Fifa18, in settima posizione, e Street Fighter V il quale, complice l'EVO, rientra in classifica al nono posto.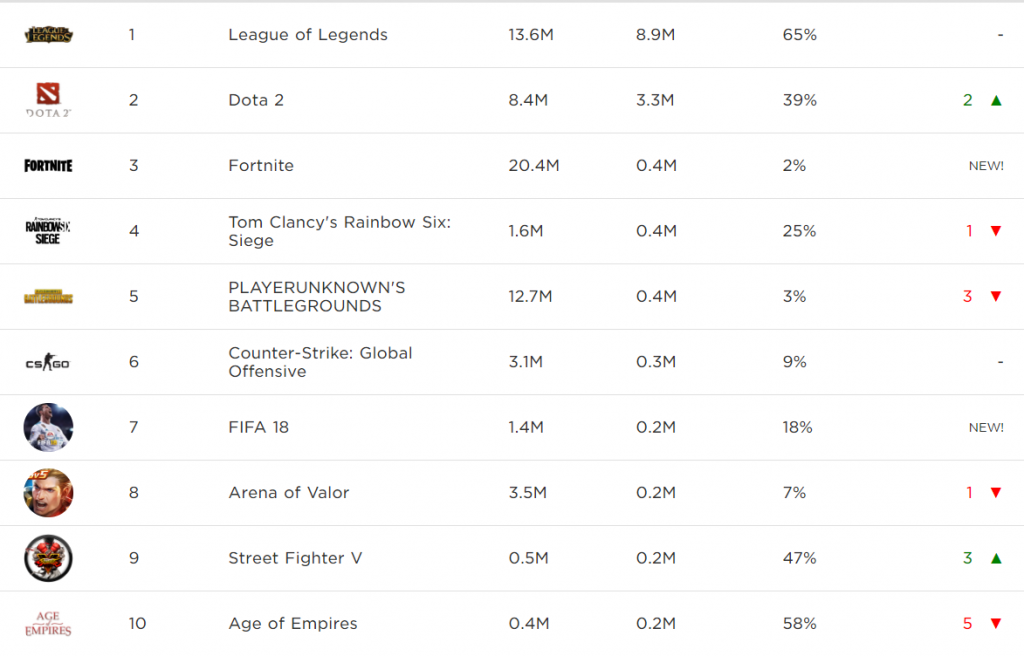 General Chart
Fortnite conferma la sua posizione di comando nella classifica generale di Agosto 2018, ma il suo dominio inizia a vacillare. La distanza tra il titolo della Epic Games e League of Legends, primo inseguitore, è al di sotto dei 7 milioni, cifra che indica un leggero abbandono da parte degli streamer del popolare battle royale.
Con PlayerUnknown's Battlegrounds a completare il podio, la classifica vede il balzo di Dota 2 al quarto posto e di World Of Tanks al quinto. Il gioco dedicato ai carri armati della Wargaming continua ad ammaliare grazie all'arrivo dell' aggiornamento 1.1. Rilasciato il 28 agosto, l'aggiornamento inserisce una nuova campagna (il Secondo Fronte) e una serie di veicoli (i tank provenienti dalla Polonia), elementi che hanno contribuito alla trasmissione delle 6.4 milioni di ore di dirette streaming.