Primo appuntamento estivo con le Twitch Most Watched, le classifiche dei titoli più visti sul famoso portare di streaming. Il mese di giugno si conclude con particolari novità in entrambe le classifiche, con particolare risalto in quella generale.
Esports chart
Dota 2 si conferma al vertice della classifica esport per il terzo mese consecutivo. Il MOBA di casa Valve rimane in vetta con le sue 25.9 milioni di ore dedicate principalmente alle trasmissioni delle qualifiche al The International 2018. 
Con League of Legends a ricoprire il ruolo di primo inseguitore, sono i titoli Blizzard a interpretare la parte del migliori, con Heroes of the Storm a far da capofila.
Per l'antagonista di Dota 2 made in Blizzard, giugno è stato il mese del Mid-Season Brawl disputato durante il DreamHack Summer. L'evento, assieme ad altri collegati, ha raccolto un quantitativo pari a 3.4 milioni di ore, che regalano ad HOTS un balzo di undici posizioni collocandolo al sesto posto.
Da segnalare, infine, il ritorno di Rocket League nella Top Ten, merito attribuito in via primaria alle finali mondiali disputate a Londra.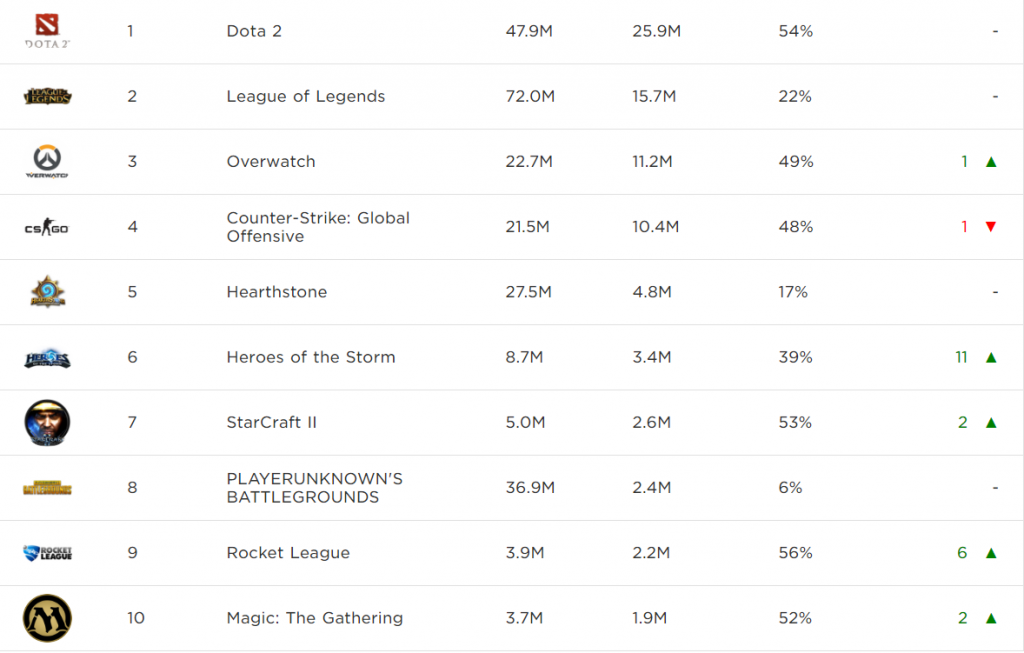 General chart
Molto particolare è la classifica generale di questo mese, con Fortnite leader assoluto in questo campo e le sue 124.7 milioni di ore.
La particolarità riguarda la presenza in Top Ten di un evento "generalista" collegato al mondo dei videogame: l'E3 2018.
La conferenza di Los Angeles, come ogni anno, è stata anticipata dalle presentazioni dei vari publisher presenti in terra losangelina. Le varie conferenze hanno catalizzato l'attenzione degli spettatori di Twitch durante la prima metà di giugno. Le 23.1 milioni di ore dedicate fanno piazzare la Electronic Entertainment Expo al sesto posto.