Arriva alle ultime battute la terza stagione di Lega Prima, il torneo di League of Legends targato GEC che ha visto sfidarsi le otto migliori squadre del panorama esportivo italiano in questi ultimi mesi.
La stagione regolare è stata lunga e sofferta, ma alla fine ha visto trionfare il Team Forge e gli Outplayed War. Entrambi i team si sono così assicurati l'accesso diretto alle semifinali. A dare filo da torcere alle due formazioni saranno gli inFerno eSports e gli iDomina Esports, usciti vincitori dai quarti di finale avvenuti il 19 ed il 20 Marzo.
La posta in gioco è alta: oltre al titolo, infatti, verranno contesi ben 11.000 € di montepremi.
Calendario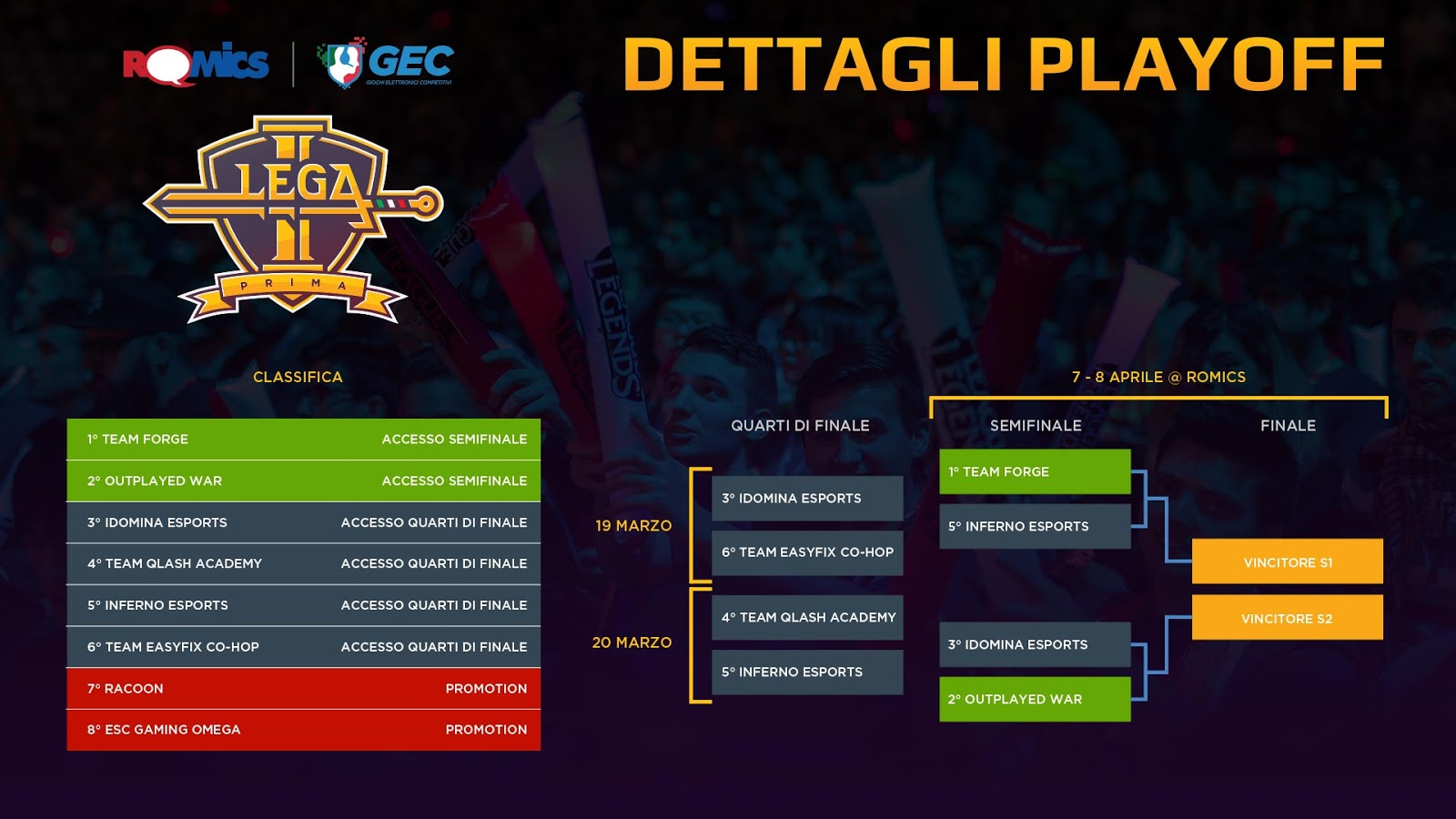 L'appuntamento per le finali della terza stagione di Lega Prima, che si svolgeranno live al Romics, è fissato il 7 e 8 Aprile al padiglione N.6 della sede "Nuova Fiera".
Alle 11:00 di sabato il Team Forge scenderà sulla Landa degli Evocatori contro gli inFerno eSports, forte della vittoria conquistata alle PG Nationals Predator della scorsa settimana. A seguire, invece, gli Outplayed WAR dovranno giocare contro gli iDomina Esports per ottenere un posto in finale. L'atto conclusivo del torneo sarà disputato invece domenica 8 aprile con inizio alle ore 14:00.
Tutte le partite saranno trasmesse in streaming su GEC TV, con la diretta che inizierà alle 10:30 di sabato e alle 13:30 di domenica. Alla fine della competizione sarà anche assegnato il titolo di MVP, ovvero il miglior giocatore della competizione.
Questo weekend a tema League of Legends sarà dunque veramente intenso, visto anche l'appuntamento con gli ultimi match dello Spring Split delle EU LCS. Preparatevi in anticipo popcorn e le memine per la chat su Twitch!