Secondo appuntamento dell'anno con la Twitch Most Watched, classifica Newzoo dei titoli più visti sul portale Twitch. A Febbraio, le novità rispetto al mese scorso sono state poche ma scoppiettati per entrambe le categorie.
Esport: R6 da brivido
Counter Strike: Global Offensive continua a essere in testa. Le sue 23 milioni di ore danno un piccolo vantaggio rispetto a League of Legends, stabile in seconda posizione, e a Dota 2, che sbalza Overwatch dal podio.
Ma la palma del miglior titolo esportivo di febbraio spetta a Rainbow Six: Siege. Il successo ottenuto, anche in termini di visualizzazioni, dal Six Iinvitational 2018 fa balzare il prodotto di casa Ubisoft al quinto posto con 4.1M di streaming.
Menzioni d'onore meritano World of Warcraft (0.5M +11 rispetto a Gennaio) e Halo 5 (0.5M +28).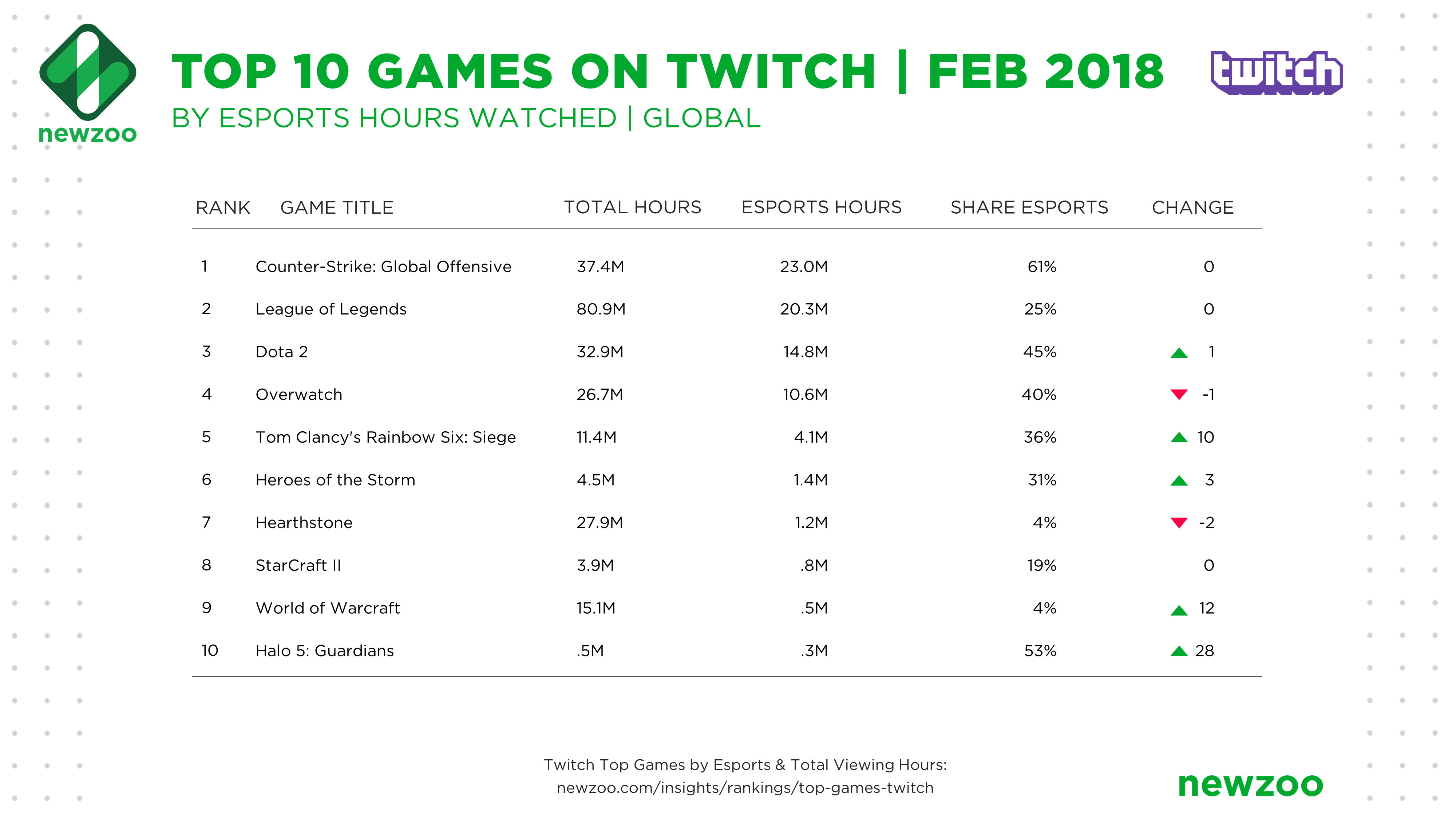 General: Fortnite da record
League of Legends rimane in vetta nella classifica generale con 80.9M di streaming dedicategli, ma da dietro Fortnite inizia a farsi pericoloso.
Il battle royale di Epic Games ha iniziato a scalare le vette di preferenza degli streamer più famosi. Le prodezze di Ninja e colleghi sono state viste per 65.5M di ore, che valgono a Fortnite il sorpasso su PUBG e la seconda piazza in classifica generale.
Tra i titoli usciti dalla fine di gennaio e l'epilogo di febbraio meritano attenzione Kingdome Come: Deliverance, che entra in classifica in dodicesima posizione (10.8M), e Dragon Ball FighterZ (3.8M) che rientra in top 20 alla posizione numero diciannove.