Come le foglie dorate cadono per terra, cosi è terminato Ottobre. Come ogni fine mese ritornano anche le Twitch Most Watched Charts, le classifiche dei titoli più visti sulla popolare piattaforma di streaming. stilate da Newzoo.
Esports Most Watched
Rispetto a settembre, la classifica dei titoli esportivi più visti non ha subito scossoni con le prime cinque posizioni. È ancora League of Legends a farla da padrona, con le sue 37.3 miliori di ore dedicate principalmente ai Worlds 2017. Da segnalare i passi in avanti di Starcraft 2 (1.6M) che balza al sesto posto e, sopratutto, di Super Smash Bros: Melee.
Il picchiaduro di casa Nintendo rientra nella Top10, piazzandosi al settimo posto, grazie alle sue 1.2 milioni di ore divise tra numerosi eventi, come il DreamHack Denver.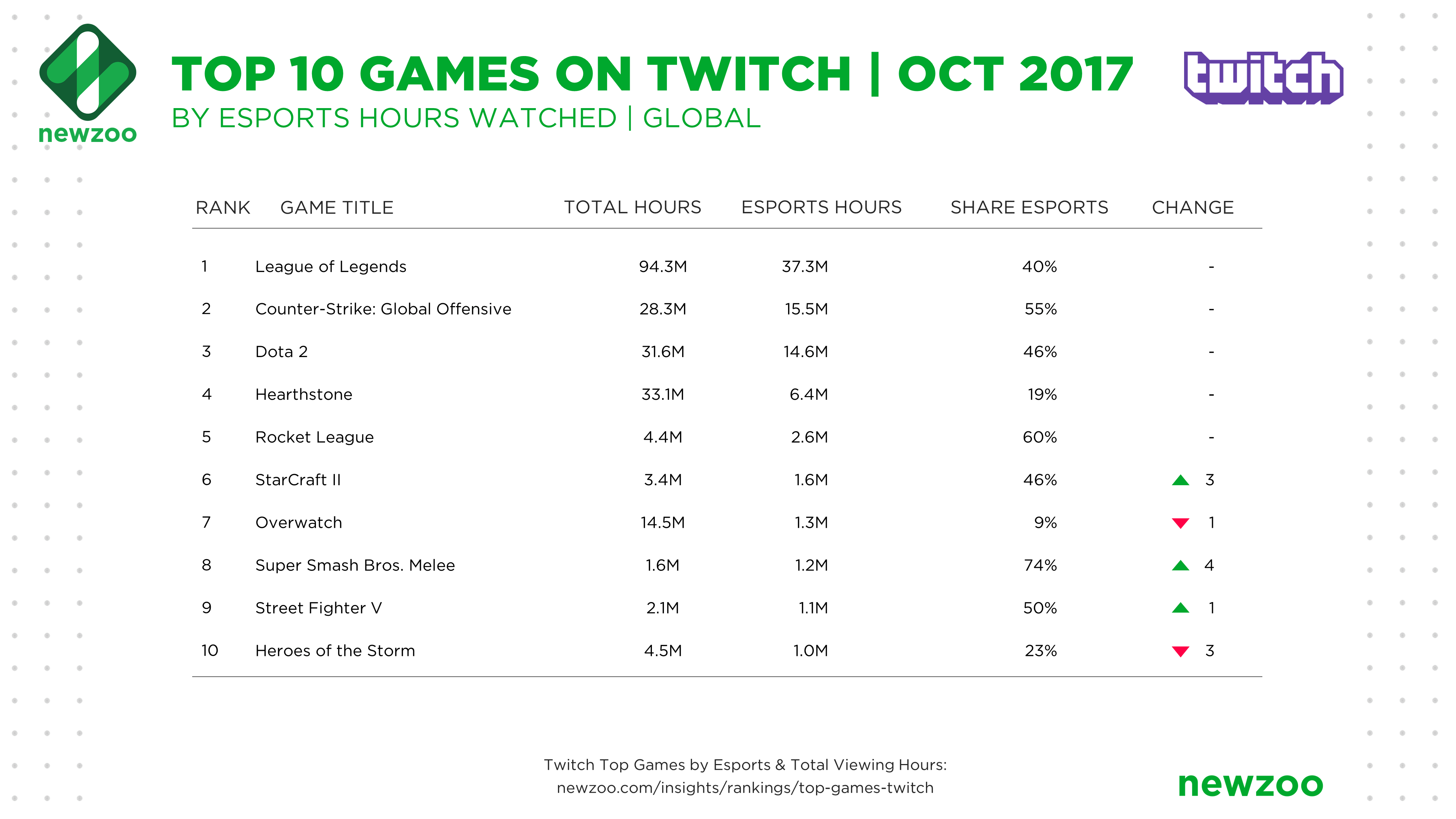 General Most Watched
Come per quella esportiva, anche la classifica generale non segnala variazioni nella Top5 con League of Legends sempre a farla da padrona e Playeruknown's Battleground a tallonarla.
Importanti passi avanti sono stati fatti da Fortnite (16.1M) che balza dalla quindicesima alla settima posizione e Cuphead (6.4M), il quale ottiene un incremento di diciassette posizioni entrando nella Top20 alla posizione n.15.
Tuttavia, la palma del maggior incremento del mese spetta a Warframe. Il titolo della Digital Extremes, dopo una lunga pausa, è tornato in auge grazie all'uscita della nuova espansione "Plains of Eidolon" il quale ha attirato molti streamer.
Le novità apportate hanno fatto in modo che il titolo salisse di ben sessantuno posizioni, piazzandosi alla n.8 con le sue 14.8 milioni di ore di stream dedicate.