L'esport torna finalmente tra le aule delle nostre Università grazie alla terza edizione del Torneo Italiano Universitario di League of Legends, organizzato da University Esports Series con il supporto di Legacy Go Pro e sponsorizzato da MSI e HyperX.
3 appuntamenti nazionali: in palio c'è l'Europa
La nuova edizione sarà composta per prima cosa da 2 tornei Qualifier, il Clash of Clubs e il Last Call, le cui iscrizioni scadranno rispettivamente il 9 e il 30 marzo.
I rispettivi primi 4 team classificati parteciperanno alla fase finale, le UES – All Star, la cui finalissima sarà giocata dal vivo, sul palco di League of Legends, sabato 29 aprile durante la XIX Edizione del Napoli Comicon, che si svolgerà dal 28 aprile al 1° maggio alla Mostra d'Oltremare.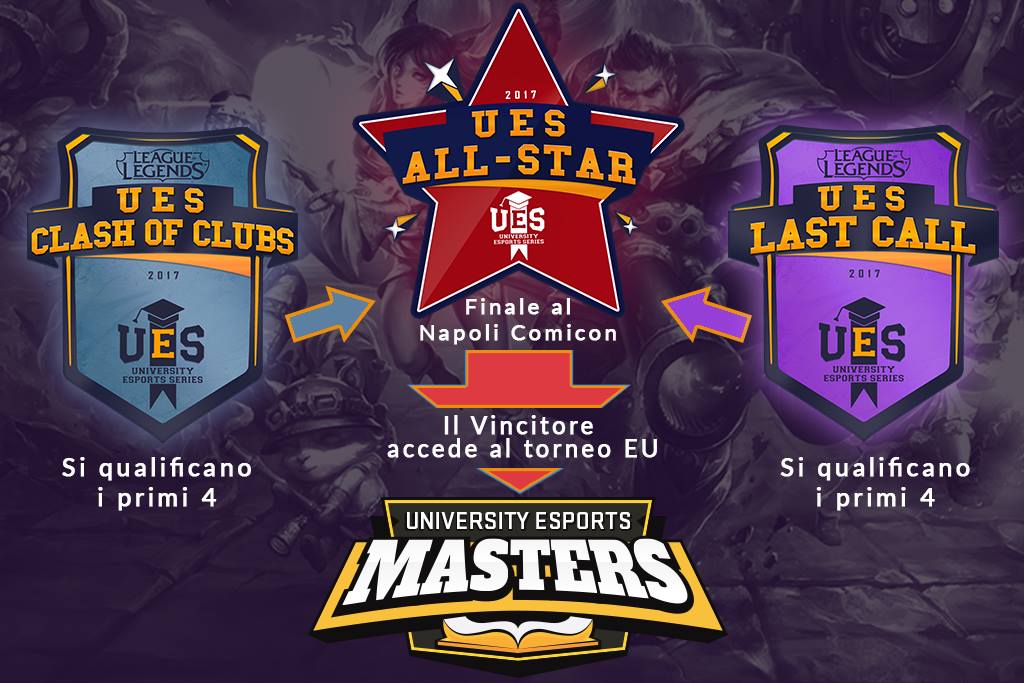 Il team vincitore italiano accederà direttamente al Torneo Universitario Europeo, gli University Esports Masters, dove si scontrerà con squadre provenienti da Regno Unito, Francia, Spagna, Portogallo e Germania. La scorsa edizione mise in palio, per i primi classificati, un premio di € 500,00.
Online sarà possibile avere accesso all'elenco dei Club University, che consentirà a tutti di trovare una squadra nella propria città e nel proprio Ateneo.
Un'occasione unica
Un'occasione davvero unica, questa, per gli studenti italiani, per vivere al meglio l'esperienza di gioco e quella universitaria allo stesso tempo.
"Quest'anno University Esports Series ha stretto una speciale partnership con Twitch volta ad offrire agli studenti contenuti esclusivi pensati ad hoc per loro. Maggiori informazioni verranno rilasciate successivamente, per cui seguiteci per restare aggiornati!" fa sapere il Co-founder Simone Gambardella.
Per ulteriori informazioni è possibile visitare il sito Internet di Legacy Go Pro oppure la pagina Facebook dell'evento.