Madrid, Palacio Vistalegre. Quattro team disputano le LoL Worlds 2019 Semifinals, in palio due posti sul palcoscenico dell'AccorHotel Arena di Parigi, dove sarà eletto il campione del mondo.
Semifinali che iniziano con quella che, in molti hanno definito, la finale della stagione autunnale delle LPL. FunPlus Pnoenix contro Invictus Gaming, campioni nazionali contro campioni del mondo.
Un derby cinese inedito a queste latitudini in cui le metodicità e la strategia hanno lasciato posto alla pura e cruda violenza. 168 uccisioni nei quattro game disputati, una sete di sangue che fa capire come i due team avessero come obiettivo principe il distruggere l'avversario.
Una cruenta battaglia in cui ad uscirne vincitori sono i FunPlus, un 3-1 in cui Doimb e compagni, al debutto sullo stage mondiale, conquistano la loro prima finale in ambito internazionale.
.@FPX_Esports ACE @invgaming AND ARE YOUR FIRST 2019 WORLD CHAMPIONSHIP FINALIST! #FPXWIN #Worlds2019 pic.twitter.com/xb4RcZtAO5

— lolesports (@lolesports) November 2, 2019
L'allievo supera il maestro
Le LoL Worlds 2019 Semifinals sono state il teatro dello scontro generazionale tra il Demon King e l'Apprendista Stregone.
Faker contro Caps era alla base del match tra SKT Telecom 1 e G2 Esports, una sfida vista da quasi 4 milioni di persone, escludendo i dati degli streaming cinesi. Una cifra che porta tale match a superare quello tra fli stessi SKT e gli Spylce della scorsa settimana come evento esports più visto in assoluto.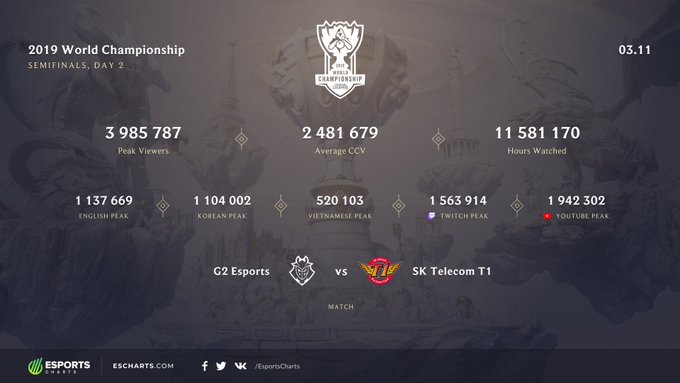 Una sfida dove, anche in questo caso, l'allievo ha superato il maestro con i G2 vittoriosi per 3-1.
Tante le emozioni in tutto l'arco del match, ma solo il quarto game ha mostrato ciò che avevamo visto nella precedente semifinale. Una vittoria che conduce i samurai alla prima finale di un Worlds e a un nuovo capitolo delle sfide finali tra Europa e Cina.
The 2019 World Championship Finals in Paris 🇫🇷 are set – @FPX_Esports will face off against @G2esports on Sunday, November 10th at 12PM CET / 3AM PST!

Thank you to Madrid 🇪🇸 for the incredible memories and wonderful hospitality the last two weekends! GG WP! #Worlds2019 pic.twitter.com/68SRQ0MUoc

— lolesports (@lolesports) November 3, 2019
Una sfida dal sapor di rivincita per Caps, dopo la sconfitta in finale dello scorso anno con i Fnatic contro gli IG.